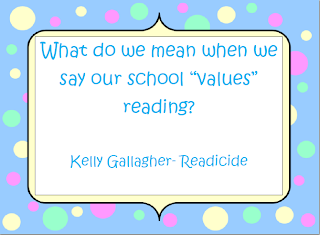 Have you ever heard a similar conversation (only with your name inserted instead of mine): "Mrs. Vines, Mrs. Vines! I made my AR goal!!!" This being said from an excited student and I follow up with "Great, I'm so happy for you!!" Then says excited student, "NOW I DON'T HAVE TO READ ANYMORE!!!"
This comment has been said to me so many times. I cringe. I feel sad. I feel angry (not at the student). I tell whichever teacher is unlucky enough to be near me when this happens, "This is why I do not like AR!"
I value reading and I try to teach a love of reading to my students. Hopefully in a way that carries over into their lives outside of school. But there are some things that I don't feel teach a love of real life reading, Accelerated Reader being one of those things. And finally after a long period of nudging people along and sometimes just outright speaking my mind about it, I am thankful to say that my school is saying good-bye to AR!!! If your school uses AR and you like it, I hope you will stick with me through this post to see why I think we can do better by our students. 🙂
Besides the conversation at the top of this post, I have also had these concerns:
* students find a wonderful book they are interested in until they find out it's not AR, then back on the shelf it goes
* student wants to read a particular book, which happens to be AR, but it is not deemed to be on their level so they are not allowed to read it
* AR tests ask literal comprehension questions
* how many of us as adults say "Oh, I can't wait to go take my test on this great book I just read"?
* parties and rewards end up being for only part of our school population, instead of celebrating the enjoyment of reading by everyone
I have so many thoughts on AR, I think I could fill up several posts on it! I am sure that you do not want to sit through that. But I am very passionate about this subject and truly believe that AR does not instill within our students a love of reading. I feel it turns reading into an extrinsic driven chore. I have even seen students race through book after book for the sole purpose of earning those points to make their goal. What about reading to enjoy the story and savoring every bit of it? I know when I read a wonderful book, I don't want to rush through it. And what about those students who love reading magazines and comics? There are always boys in our school that haven't found the right book yet, but LOVE to read hunting magazines.
I am proud of my school and my teachers for reaching the point that they are ready to say good-bye to AR and teach the love of reading with an intrinsic value. We have lots of ideas for next year and I can't wait!
Next on my radar: Getting rid of that creativity killer called the 5 paragraph essay. 🙂
Did you notice the super cute frame that I used for my quote? Tessa, at Tales From Outside the Classroom, created that! So to her blog and see all her cute stuff. You will definitely love it!