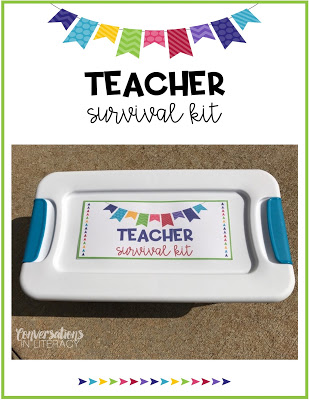 Already, it is almost Back to School time!  As I start thinking about getting my room put back together, I am thinking about my Teacher Survival Kit!  A Teacher Survival Kit should include things you might need during the day or night at school that you may or may not carry with you in your purse.   It can just make your day easier when you have a little problem to fix up!
I like to think of it as things I can always have on hand in case I run out of it in my purse, forget to bring it or something comes up like an unexpected parent conference!
I bring my lunch every day to school, but sometimes I just need a little more or once in a while I forget my lunch.  Having a couple snacks put back is always nice to have for those days you just get a little hungry!  I like to have gum/mints to take care of that coffee breath!  
As a title 1 teacher, there are several nights during the year that I have to stay late.  Already having a toothbrush, toothpaste and mouthwash helps me not to have to remember to bring mine from home.  Same for the hairspray and deodorant.  I like knowing it's there and I don't have to remember to cart everything back and forth.
Some little things that are important for me are hair ties.  There are just some days that the hair MUST go up!  😃 For some reason, I can't keep one in my purse.  Spare earrings are good to keep too in case you have forgotten that morning.  Chap Stick, Excedrin and clippers are always things I am needing.  Other teachers told me about keeping a Tide pen for those times you get something on your shirt.  A dollar for snacks or a drink is a good idea too!
Anything you add to your Teacher Survival Kit??  Pack one for yourself or for a teacher friend!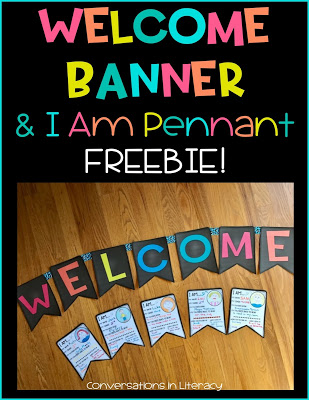 Just in time as Back to School gets going, we have this Welcome Banner and student response pennants for you!
You can print them both or just use the welcome banner by itself.  Print it, attach some ribbon if you wish, and hang it up for a colorful welcome to your room!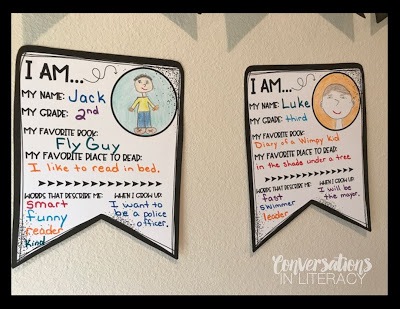 The student response pennants are a quick way to get to know your students!  
Meeting Your RTI and Literacy Needs: