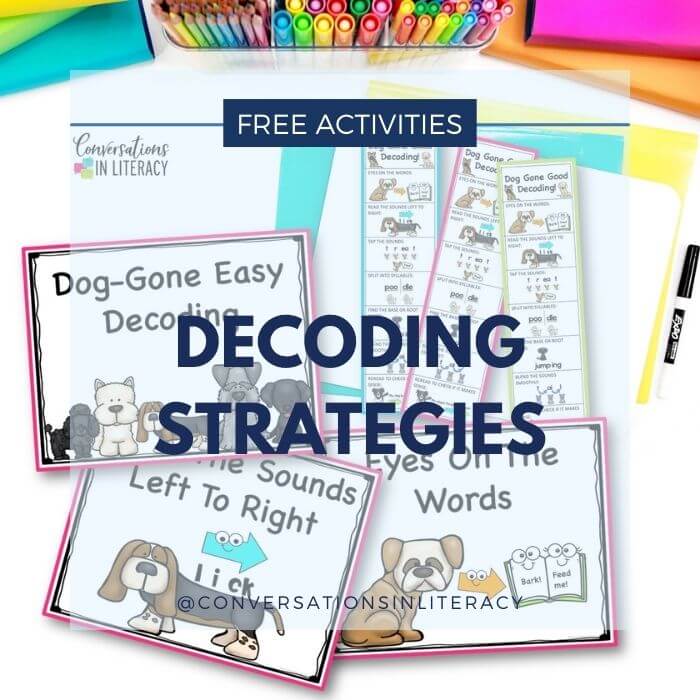 Teaching decoding strategies to our students is crucial to their learning to read and finding success. Being able to decode quickly and accurately leads to improved fluency and comprehension too!
Decoding strategies help readers to recognize words quickly and efficiently. But this doesn't happen just by throwing out a bunch of strategies and expecting students to use them.
We've got a great free activity for you at the end of the post, so keep reading.
We really have to be intentional with our teaching of each strategy, one at a time. Teach the strategy and then help the students APPLY the strategy to their own reading. This application piece is a step we are often missing (I know you've heard me say that before 😉).
Applying Decoding Strategies
Teach a strategy like keeping your eyes on the word. Which is REALLY hard for some of our developing readers. They often want to look up and appeal to us for help. I like to over exaggerate this when teaching it by looking up at the ceiling and asking the students if the word is written up there?? Then we look at the floor- it the word or letters there? No! I even ask if the word is written on my face- which seems really silly to them!
We then talk about why we are keeping our eyes on the words. To be able to see the letters so we can use our strategies to decode! We can't do that if our eyes are somewhere else. And we do need to try something to help ourselves.
After we have learned a couple of strategies, we might put the strategy posters on chart paper. Give students a sticky note or two and direct them to jot down a word if they use one of their strategies for decoding it. After they have read, we discuss what strategies we used and how they helped us to decode (application). As each student has shared, they get to add their sticky note to the chart.
Students can also keep a bookmark with them as they read to remind them of the different strategies they can try when they get stuck on a word. As you are listening to each student at the table read and you notice them get stuck on a word, watch to see if they use any strategies. If not, this is a teaching point to be made and you can walk them through choosing one and using it.
Hang the decoding strategies posters somewhere in your room where students can see and refer to them easily. This is something you will need to model for them too. If we don't model how to use the charts, they will end up becoming part of the background of the room and we really want them to become a part of their learning!
You can pick up these fun, dog themed decoding strategy posters and bookmarks free!