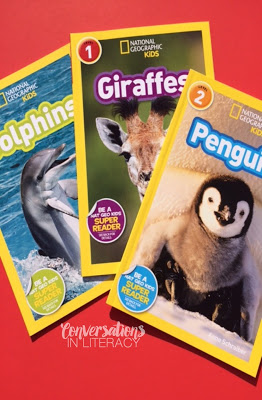 Students love to read informational text.  I think they especially enjoy real photographs and all the cool facts that they learn!  But for some students informational text can be a bit tougher to navigate through than fiction text.
I have quite a few of these National Geographic informational books.  I like to give the students a choice of which one they are interested in reading.  Choice is huge!
An easy way for students to organize their learning is by using an informational text response booklet.  Students can fill it out as they read and learn or after reading the entire book.  It is fun and engaging with open-ended questioning that gives them more choice in what they enjoyed learning.
After completing the booklet, students can share the new information learned with each other or the booklets can be hung for a display. 
Check out these phonics word work intervention binders: