The Little Red Hen, a favorite of all youngsters. My students were of no exception. This version was a little different than some- the Little Red Hen made muffins instead of bread. We took a picture walk through the book and the kids really picked up on how hard she was working without any help. I was proud of how well they were empathizing. They truly felt sorry for her! 🙂
Before we got to the last page, we predicted what we thought Little Red Hen would do. Here are a few of their predictions:
not share the muffins.
maybe will share the muffins with the babies.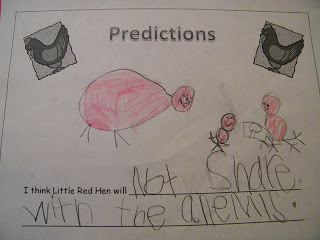 not share with the animals.
Most of the kids predicted that Little Red Hen would not share and they felt like she shouldn't share. One little one was just sure she would share with the other animals and was almost crushed when he got to the end of the story and found out she didn't! I loved hearing their voices as they individually read the books and got to the last page to see if they were right. Lots of "I was right!!" was going on.
On the next day, we took it a step farther and talked about how the animals might have made Little Red Hen feel by their actions. After rereading the story, we wrote about what we would have done if we had been Little Red Hen. The last one that I will share with you shows to what level that they got it and understood the character's feelings. So cute!
share the muffins with the animals.
eat the muffins myself.
give them a crumb.
I just love that this girl decided she would give the animals a CRUMB of the muffin and not just eat it all herself! She's letting us know she really gets it!
If you read The Little Red Hen, maybe you could use these reading response sheets too. Feel free to grab them if you like them!