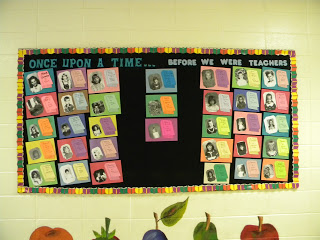 Childhood books and childhood pictures….what a fun wat to celebrate Read Across America! My para-professional got this idea from our librarian and put this together (she is the BEST para-professional!). This one board has been the area all the students and teachers alike have been gathered lately to see if who can guess which teacher is in each picture. Some people have not changed much, some you can tell because they look like their children that we see everyday, and some have changed so much no one can tell who they are! Names will be revealed to all at a later date. We are even thinking that on our Spring Fun Night, the parents can come in and guess who the teachers are for a contest.
This little picture is me! I adored Nancy Drew books and read every one that I could get my hands on. Actually, I read almost anything I could get ahold of. I LOVED reading and still do!
Our staff and students alike have had the most fun with this bulletin board. At any given time, you can find students staring up at the board trying to figure out which picture is their teacher or teachers standing around laughing at how silly we looked so long ago! Hope you enjoy this half as much as we have!!