I am joining up with 3 Teacher Chicks for Tackle It Tuesday!! It's a great way to get some new common core ideas. Don't forget to join in the fun by clicking their super cute button below after reading my post.
Don't you just love spring? It has finally arrived for us-yay!! And I have a spring literacy pack to help your students make sure those phonemic awareness and phonics skills are solid before the end of the year. It's common core Sounds Fun!



You will find a short vowel scrambler- students build the short vowel words by unscrambling the letters.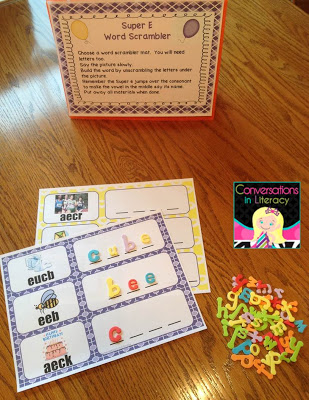 Then, to be sure they understand long vowels, there is a Super E Word scrambler.
Next up are beginning sounds.
Sorting for ending sounds is a good way to be sure that students can hear those sounds. I have some first graders that will be practicing this for this week as they are still having some difficulty holding on to the sounds all the way through the word.
And of course I included hearing middle sounds! Several more of my students will get some practice at this. Those middle sounds can be tricky!
Last is another fun one- syllable counting and graphing! I have found that some students need to cycle back through this skill. They get it and then if they are not using it, they lose it again.
Click on any of the above pictures if this is something your students are
needing! And the centers are common core aligned. 🙂
Mrs. Wills is having her weekly Peek At My Week linky! This is such a fun way to get to see what others are up to this week. If you would like to join in on the fun, be sure to hop over to her blog and link up!