I had a love hate relationship with word sorts! I was introduced to word sorts some years ago and I love them. They are a valuable tool to use in class for teaching vowel sounds, syllables,and prefixes and suffixes. And they are very versatile. They can be used for so many different subjects. The hate part came when I couldn't find just what I needed. I would look and look at the catalogs and in the stores, but I couldn't find the kind of sorts that were "just" right.


Well, I have finally solved that problem, thankfully! I have made my own! And that is an empowering feeling to be able to solve that problem. I can't wait for my class to be able to begin using them. 🙂


If you have never taught with words sorts, this is how to use them. I use words sorts using vowel sounds and chunks. It is so important for reading that students be able to see patterns in words like cvc, silent e, and chunks in words. So that is what we sort for.


You can choose whether to have students do an open sort or a closed sort. Meaning you can have them discover the rules for sorting or you can give them the rule for how to sort that day's words. You may want to give younger students the rule for the first few times.





Students then either individually or in groups cut apart the word boxes and glue them on the word sort page. They must also write in the rule they are using for the sort. The last part is the transfer step and it is SO important. The teacher would say a word out loud, but not showing how to write it, that fits in one of the groups. The students then use what they know about the words in groups to figure out where this new word goes and how to spell it. It is all about the transfer step in learning!! I also like for students to write a sentence with several of the words from the sort in it. The sentence can be silly but must make sense.


Update: The student word sort pages have been updated for with a fresh, engaging new look!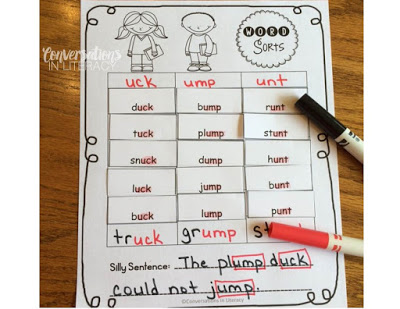 You can have students highlight the chunks so that the chunks stand out more to them visually. I like to have my students write the words in the boxes rather than glue them. I have them use a colored pencil for the vowels or silent e.





In this packet that I made, I have included short vowels with chunks, progressing to sorting by short vowel sounds rather than chunks. Then the sorts move to long vowel silent e words, with finally having short vowel words mixed with long vowel words to short. And each lesson has the important transfer words! I will be making the next step in these type of lessons- vowel teams.


Below is a preview of my packet. Included are 8 different themed word sort main pages, 24 word sort lessons, each different and increasing in difficulty, and all of it is common core aligned! If this word sort packet can solve your problem too, like it did mine, click on the picture and it will take you to my TpT store. 🙂


Update:
Join Joy of Teaching in her Common Core Linky where you can find all kinds of great common core ideas!