How is your school coming along with the process of Response to Intervention (RtI)? Is your school finding success with it or are you still in the process of trying to find your way? I have found that a lot of schools are still trying to find what works for them.

We have been implementing RtI in our school for several years now. Each year, the process gets tweaked and improved, but I think we have found a system that works for us and more importantly is helping our students.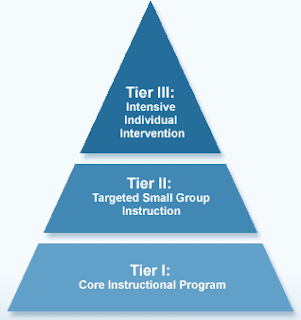 Our school uses the 3-tiered model. Tier 1 is where all of our students are considered to be at within our school. Tier 2 would be small group targeted instruction and Tier 3 is where your most intensive instruction is conducted one-on-one or one-on-two instruction.
I am going to try explaining how our school implements Tier 1- hopefully in a short, concise, easy to follow manner! Tiers 2 and 3 will follow in coming weeks. To include all 3 tiers in one post would be too much information! I would like to keep you sane and not drive you INsane! It is summer vacation after all! 🙂
Tier 1:
~ all students in the school start in this tier
~ uses scientific, evidenced- based core instruction
~ data driven decisions
~ universal screening
~ 80% of your students should be successful in this tier
At our school, we have many support systems in place to help our students find success in Tier 1. These include but are not limited to:
~ scientific, evidenced-based core instruction (if too many of your students
are not being successful in Tier 1, you will need to look at your core
instruction- for example how you teach reading or math- to see if your
school needs to make a change
~ we use Acuity to help us get ready for state testing and is aligned to our
grade level expectations- this provides our school some of the data to use
in making decisions on whether students are being successful
~ Developmental Reading Assessment 2 (DRA) is what we use for our
universal screening. We also use phonemic assessment tools for the
younger students (k-1).
~ assignment books for grades 3-5
~ after school tutoring for grades 1-5
~ progress reports sent home every two weeks
~ Title 1 reading and math services
So to recap…We give students the DRA and/or phonemic awareness assessments to all students several times per year for our universal screening. Then I (our school's reading specialist) take a look at students' scores and determine who is below grade-level and how far. If students are below whatever cutoff point we have decided on for each grade level, they are then placed into Tier 2. I will explain how Tier 2 works next week.
All other students who are progressing proficiently, stay in Tier 1. Tier 1 for us happens in the regular classrooms. Teachers use their data from Acuity, DRA, and common assessments to form groups within their class to reteach skills and strategies that some students are still needing to improve upon. It is like a continuous cycle of learning. We have a set time period every day for RtI- 30 minutes. Teachers can form groups within their own class or combine with other same grade-level teachers to form groups. Then each teacher teaches what the groups that she is in charge of needs.
I hope that you found this explanation of Tier 1 helpful and informative. It's a dry subject, but an important subject to understand. RtI can be so helpful to students and teachers once you find a way to make it work for your school. Each school is going to make it be successful in slightly different ways. Just like anything in teaching, you have to learn it and then tweak it to make it your own! I would really love to hear how your school is doing on this journey of RtI and how it is working for you. 🙂


If you or your team is struggling with RTI and the documentation needed for it, these binders and graphs may help you with that. The binders have graphs for data plotting for teachers and a separate booklet for students to track their own progress! Students love that and it is very motivating!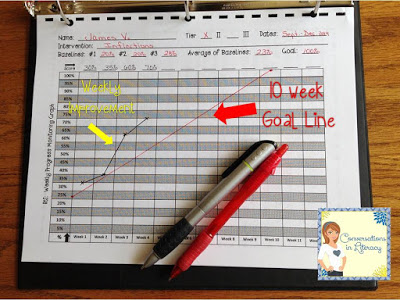 I have
binders for each of the grades of kindergarten through third grade. Just click here or on the pictures above to view them!