One week down of RtI! Students are in their routines now of where to go at their RtI time and what they will be doing when they get there. Last week we were getting off to a great start and I am starting to see some understanding of what we are doing!
I have a couple of kindergarten students working on blending/segmenting phonemes and a couple that are working towards identifying common phonemes. One little guy, who had moved into our district part way through the year, is just struggling hearing the sounds stretched out in a word and then blending them back together. But we ARE getting better!! Using his arm as we segmented helped. This week, I am going to add pictures of objects to help him have a visual cue: /b/ /a/ /t/: then he will choose either the picture of the bat or a cup. I think it will begin to click more for him after using pictures to choose from since he can't hang on to all the sounds long enough to put them back together to form a word.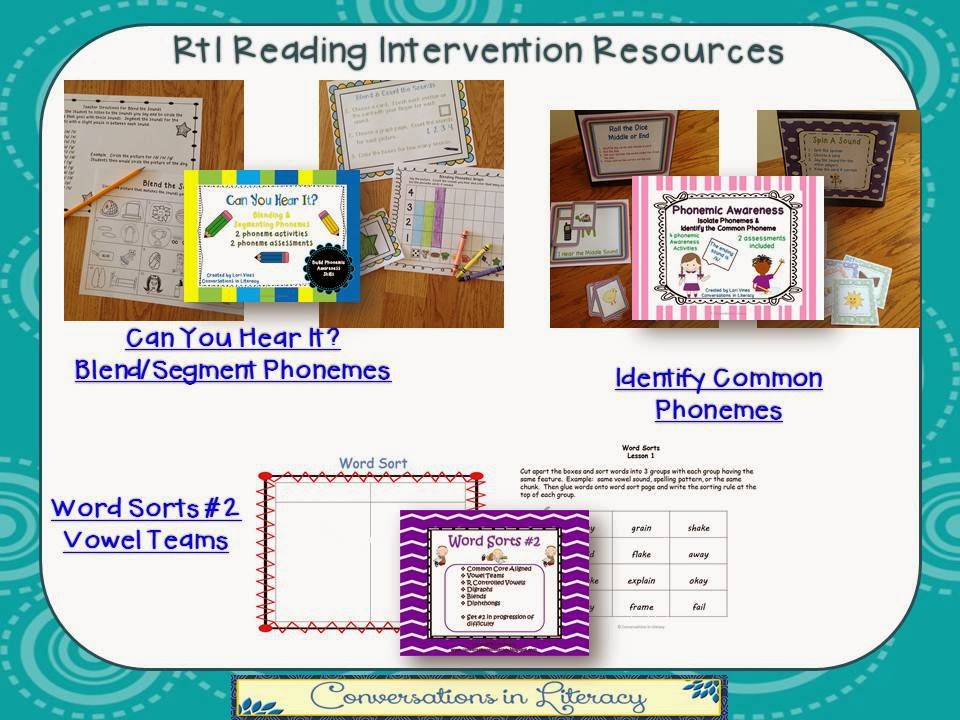 My kinders that are working on identifying common phonemes can hear when the phonemes are the same at the beginning of the word, but haven't been able to hear them at the end of the word: cup rap = /p/. But we will get there! After all, this is only week two coming up!
One of the fun things we did last week with our pre-primer sight words is play what the kids have named "The Monster Game"! I printed the 5 words we were working on that week and placed them face up for them to choose a card to read.
If they could read the word they chose, I would then pull the card to see if a monster was hiding behind it. Something so little was hugely motivating! This month, I think I will change the monster out to a leprechaun. They will love that! Oh, I also used 2 monsters instead of one. I felt like these kindergartners needed more chances to find a monster to help them stay engaged with the game.
Did you miss the TpT sale? My store continues to be on 20% off today!
Don't forget to link up with Mrs. Will's!
Hope you are staying warm and away from the ice and snow today! We are supposed to get ice, sleet and snow!!