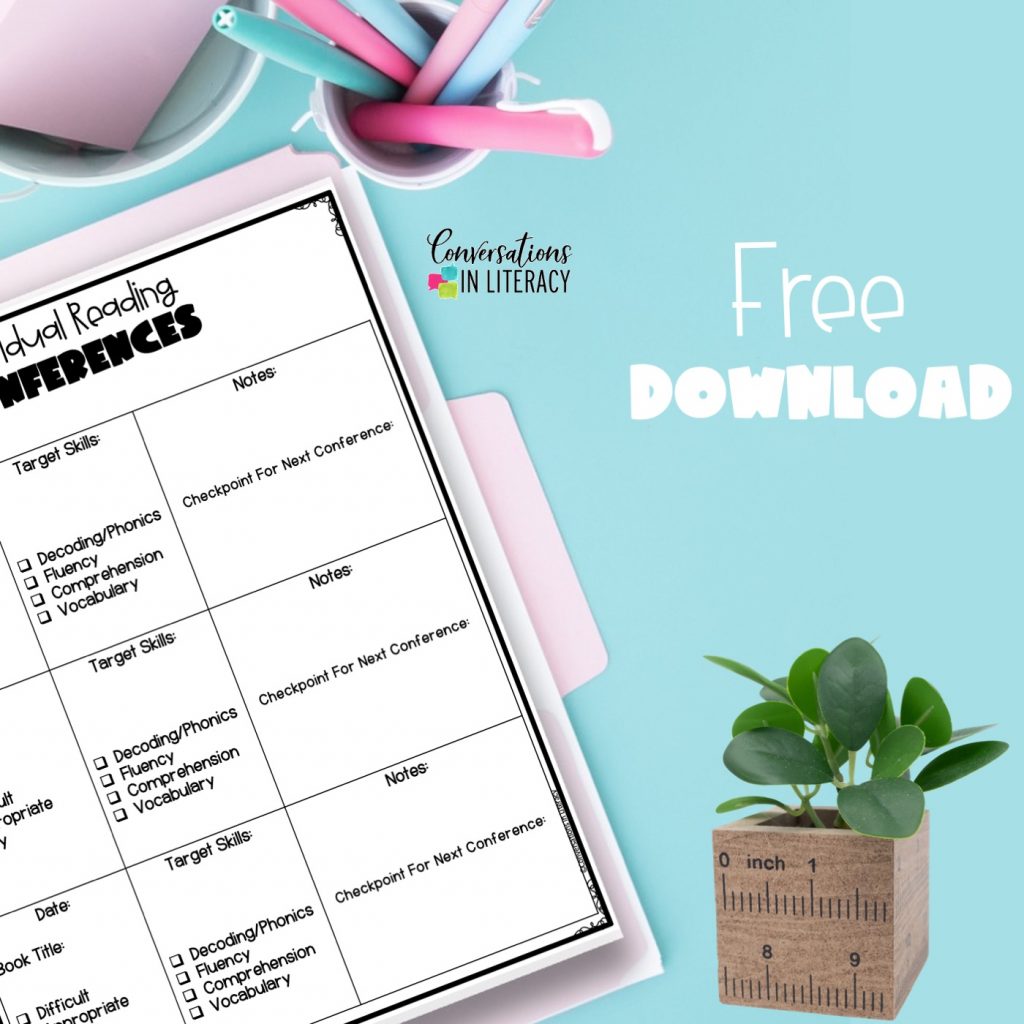 Reading conferences can be a powerful and effective tool for developing reading growth in our students. Conferencing with each student doesn't take long but can provide us with a lot of data about how students are progressing and how deep their level of understanding and comprehension can be. Plus, they can be just a whole lot of fun for both the teacher and the student. We have a freebie for you at the end of this post, so keep reading!
Reading Conferences Tip #1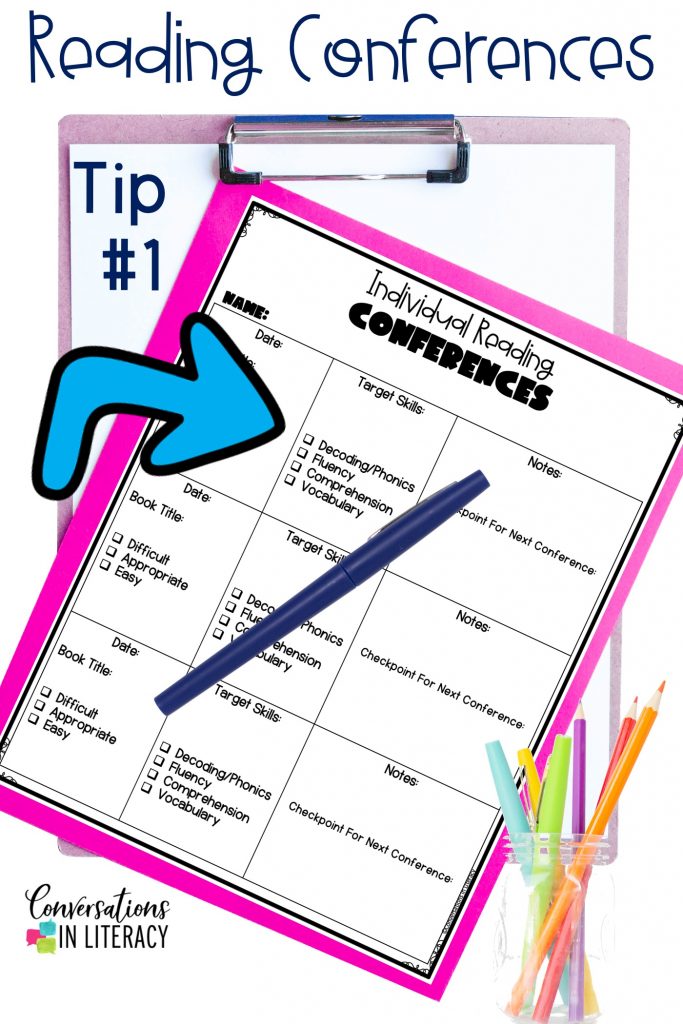 Check in on targeted skills for each student is tip #1. If you are teaching specific comprehension skills in small groups or in a whole group setting, check in with the student to see if they are transferring those skills to their independent reading. For example, if you have been focusing on character traits and how these traits impact the story during reading time, you can check in with individual students on this skill during independent reading conferences. The whole point of teaching skills is to get our students to be able to use them in another context independently. So as you conference, you could discuss the character traits with the student used in the book they are reading and how these traits are impacting the storyline.
This is also a great time to have a discussion about vocabulary with students. What interesting words did you find or what word/words did you not understand? Once students become accustomed to these type of questions, they will begin to jot these down on stickies or in a notebook and can be ready for their conference with you.
Reading Conferences Tip #2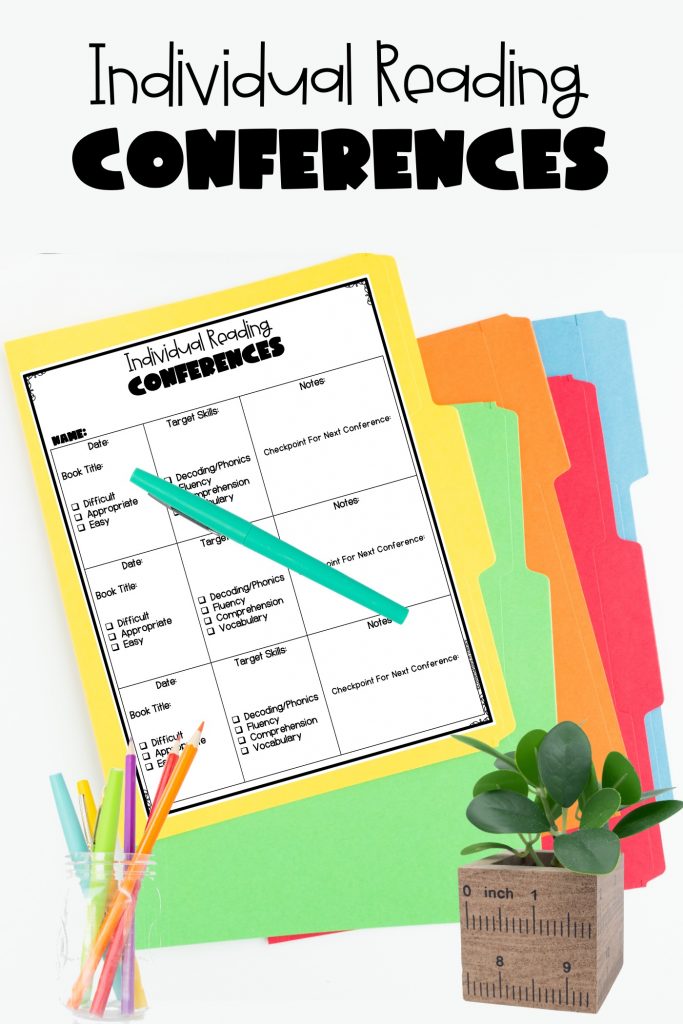 Tip #2 is so important- schedule all students for conferences. Please take time to schedule conferences with all your students- high readers as well as developing readers. Our developing readers, obviously, need us to be checking in with them. But so do our high flyers! I want them to grow and progress just as much as our readers that struggle. Often times, I see higher level readers get left out due to time constraints. I get it, there is never enough time. But they deserve getting to sit down and discuss with us too. They may be reading higher, but there are still standards and skills to be teaching them.
The best way I found that worked for me for scheduling conferences was to divide the class into days of the week and schedule 4-6 conferences per day. I kept their reading conference forms in a folder or a binder and just grabbed the folder for that day. This way I knew who I would be meeting with for that time frame. I tried notes on stickies and then transferring them to a notebook. But that seemed to be an extra step I didn't need or really like. You have to find the system that works for you and that you will keep up with and not lose the notes. The key is finding what works for you and your students and then being consistent every day with it. If you have too many students to divide them into a 5 day schedule of Monday thru Friday, then try a 6 day schedule.
Set a timer and stick to it so you don't run out of time before you meet with your last student. If students get left out, they don't like it. They grow to really enjoy and look forward to meeting with us and that one on one time even if it is only for 5 minutes.
Reading Conferences Tip #3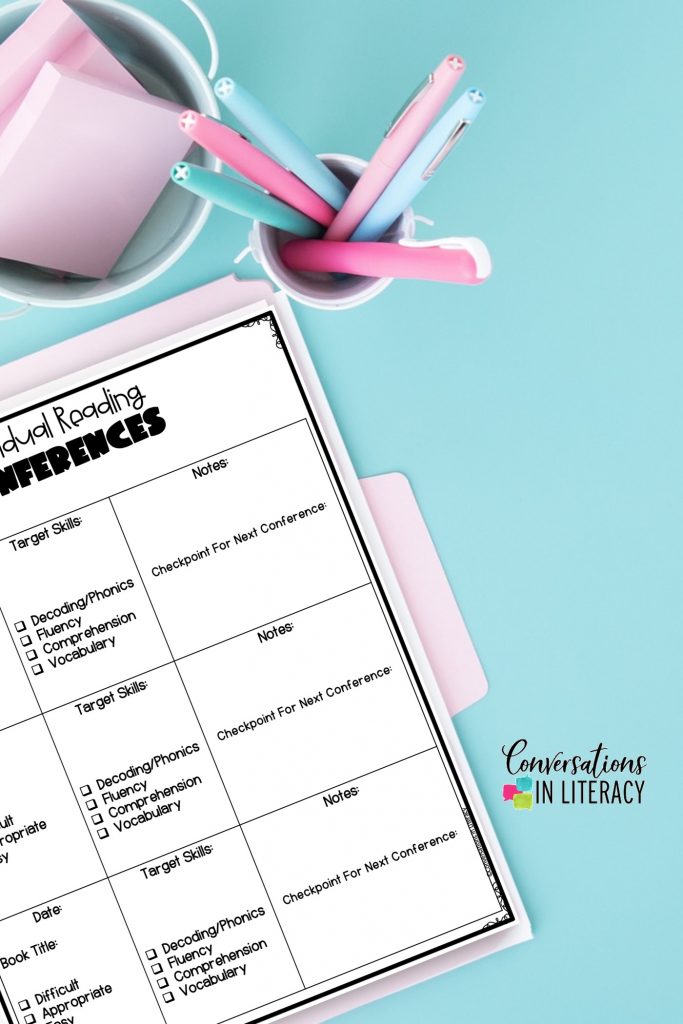 For our last tip, use your notes from reading conferences to drive your instruction! After noting what students can do, jot down in the Checkpoint section what they still need to develop in their reading or what the next step in their learning should be. Then you can use the valuable information gleaned from conferencing to drive your lesson planning in reading groups. This information can tighten up what your focus is in groups and who still needs filling in of gaps in their learning. Which makes it easier on us knowing what we need to do next!
If this would help you in your classroom, you can grab this Individual reading conference form for free by clicking the button below!