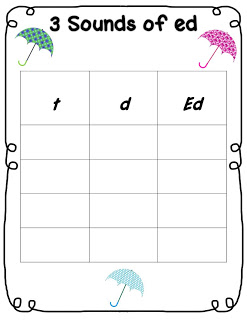 The 3 sounds of ed
Kick-ED, Help-ED…have you heard these type of mispronunciations? Some of my students think there is only one way to say the ed ending. They say it like the boy's name ED and then just keep reading like it sounds like a real word.
We are working to correct this! And an easy way to work on the 3 sounds of ed is to do a word sort- I love and use word sorts all the time!
A good idea is to have students highlight or box the ending in a different color. This makes the ending stand out from the root word.
Students highlight the ed ending, cut out the word boxes, sort and then glue.
If you would like to have this 3 Sounds of ed Word Sort, just click here or on the first picture and you can download this freebie!
Aren't the umbrellas that I used just adorable?? Barbara from Ruby Slippers Blog Design designed these. Go check out her beautiful designs- she has the cutest stuff!