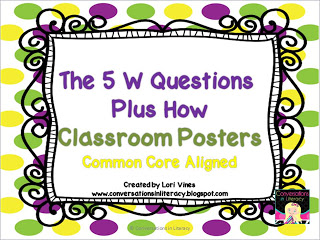 Say who? Say what? Say where? No, I'm not confused…but sometimes students are!


Do your students use the 5 Ws plus How? Common Core requires students, specifically second graders, to use them when asking and answering questions about key details from the text. Seems like students can get part of them, but it is hard for them to remember all 5 plus getting in the How.


I am sharing my 5 W Questions Plus How classroom posters to help them and you out!



All 5 W questions- who, what, when, where, why, and also how are included. Print them out, laminate them and then hang them on your walls or bulletin boards for reminders about what key details they should be remembering as they read. Maybe you will get less say what, say where, say how in your day!