If you have been following my blog for any time at all, you know that I believe in RtI. And if you believe in RtI, then it follows that you must believe in information like data driving your instruction. So I guess I am crazy for data…or maybe I am just crazy! 🙂


But I do think that the anecdotal records we keep and all the data we collect needs to be for a reason. Not just something we do because we are supposed to, right? I don't want the things I do in my classroom to be done for no reason. I need it to be real and I need it to be efficient.


I want to keep a close eye on my students (struggling readers), getting in there in the trenches with them while they read and write. I like to dive in a little deeper to what my students are doing or getting confused with and then I can use that information to drive the instruction that my students receive next.


Reading and writing are reciprocal processes- one feeds the other so to speak. We can tell a lot about what is happening with a student's reading and writing by looking at what they are doing in the other process.


It is a good idea to take your reading journals or other piece of writing and analyze it to see what your students are missing or getting confused. You can then use this information to correct confusions or to take the students to the next step with their learning.


This student wrote about a snowman coming to life after we did a unit on Snowmen at Night. As you can see, they struggled with long vowel sounds in the middle of words (life, games, snow), the final d sound in Candy Land, and left out periods.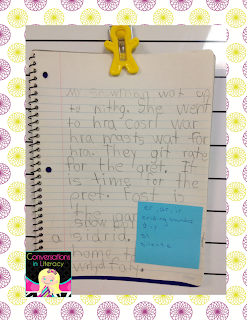 This is from a student with huge speech issues- she used to speak using only the medial sounds. iii ooo was flip flops! Amazing progress from her, but as you can see, she is still having trouble with ending sounds. As well as bossy r vowels, silent e words, etc…
I like to make it easy and efficient by just using Post It notes to jot down what I see. Pretty soon I see a pattern going on with my students. Some of the patterns will be wide spread enough that I will use that for a whole group lesson. Then some of the things I see going on will be for individual conferencing lessons. I only showed two pictures, but the overall picture when I looked at all of their writing (these are struggling first graders) is that I need to do some more lessons on the silent e like Making Words and Word Sorting.
Several of their writing samples showed me that they are STILL forgetting to use beginning of the sentence capital letters and periods. Oh my! So to correct that we will have some lessons where we will take a look at some favorite authors of ours and do some looking around in their texts and how they use capitalization and punctuation. I will want them to notice where the author used these skills and why they used them. Then we will be be like our favorite authors and do what they do by applying those skills in OUR writing. 🙂