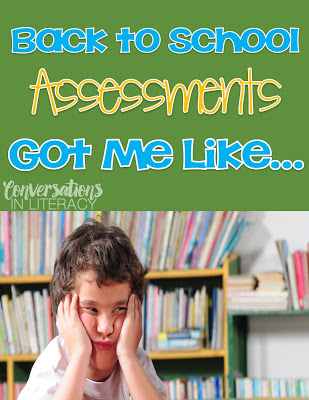 Are you back to school yet? My students start Thursday! Where did summer go? Every year as school gets started again, I ready things in my room for getting started with guided reading. Part of getting started is knowing where all my students are at with their learning.
But getting all that paperwork together, printed and labeled could be overwhelming. Sometimes all that paperwork makes me feel like the lady in this picture! But a couple of years ago, I found the answer to this paperwork nightmare!
I learned about ESGI 2 years ago and it made a HUGE difference in the way I assess students and the amount of time that it takes me to prep and complete the assessments. And I am talking hours saved, not minutes.
Today at school, I updated my lists of students. I carry a load of anywhere between 30 and 50 students. It doesn't take very long at all to input new student names. Previous students are automatically graduated to the next grade level. I just added in the new kindergarten names and reassigned the previous students to their new teachers.
That's it. I am ready to begin my assessments now. NO gathering up assessments out of file cabinets. NO standing at the copier making copies. NO keeping track of test results and writing out reports to parents.
I don't have to make all those copies or write reports because all of my assessments are right there in the ESGI software waiting for me! Every year, this is just ready to go. I assess students one on one using the computer. The students actually enjoy testing this way! I assess on letter identification and sounds, phonemic awareness, and phonics all the way through third grade. But you can make your own assessments and you can even create your own math assessments. Or use the ones preloaded for you!
After I have assessed the students, I can then see how the students did. You can see reports in several different formats. Pie charts for each individual student or for how the entire class did- see the above picture. Or you can view results in a bar graph. I appreciate that their are different formats that I can use. I have some teachers that like the pie graph and some that like the bar graphs. I can send to the printer a different report tailored to each teacher's preferences and needs.
Another time saver is that you can print letters to parents with the results of their child. You can use the prepared letter in the format ESGI provides or you can edit it to fit your needs. Along with the parent letters, you can also print out flash cards to send home for students to practice. That is another huge time saver- not having to print out work for practice.
Sending home ABC letter cards really helps parents to know what to work on and they are very appreciative of not having to create the cards themselves.
I use the assessments on ESGI at the beginning of the year, half way through and again at the end of the year to document student growth. These assessments are used for guided reading, word work activities and for our RTI groups.
ESGI can do so much more than assessments. You can keep track of field trip money and permission slips, schedule parent conferences and send out reminder notes. Even print out name tags and pocket chart tags! This software is way more than just assessments!
This is great tool is something your school can use too and now is the time to try it out! ESGI is running a special right now with $40 off your first year subscription. And you will also be entered to win one of 10 TPT $50 gift cards!
Pre-Kindergarten – 1st Grade Classroom Tools
Click the button above to enter for the TPT gift cards and to check out ESGI for your school or classroom. It is seriously one of the best ways I have found to organize and manage my assessments for the last 2 years!