I'm often asked about the best books for teachers, especially for reading or guided reading. So it is time for my annual Teacher Book Stack where I show you what I'm currently reading for the classroom. You can check out my other Best Books for Teachers here and here. There's also a freebie towards the end of our post for you!
Like a lot of you, I just love to get teacher professional development from great books! Some of the the links below may be referral links, which means, I will earn a commission if you make a purchase, at no additional cost to you. My list this year includes: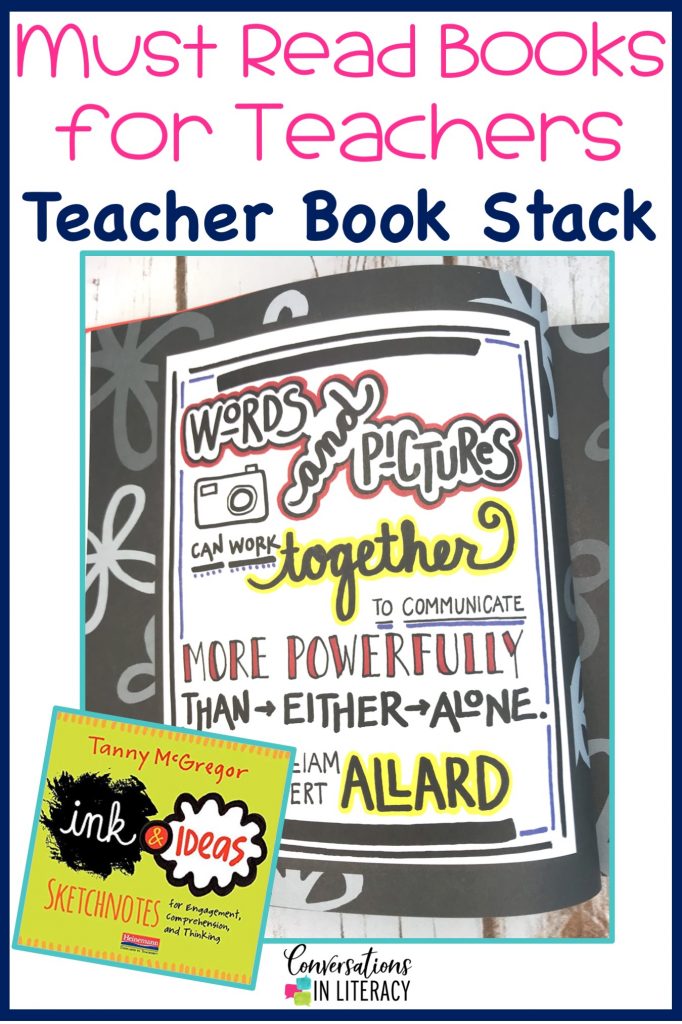 Before I get into all the phonics books, let's talk about Ink & Ideas. What a fun and energizing book! It has such a cool layout on the inside. Tanny McGregor shows how sketch noting makes thinking visible, visual, and meaningful. I've been doing this already with some of my students during interactive read alouds, so I am excited to learn some more ways and use the templates she has included in the book!
Now, let's dive into the phonics books! I see that a lot of students struggle with fluency and this struggle is coming from the lack of knowledge and experience with multisyllabic words. So I am planning to sharpen my skills and my knowledge about multisyllabic words and how they lead to improved fluency and reading comprehension. This book, Teaching Phonics & Word Study, provides support with syllabication, word lists, and activities. I know it is going to be a good one! And it is by Wiley Blevins, who is widely known for being an expert on early reading and phonics.
A Fresh Look at Phonics, and the last one, Phonics & Word Study are also by Wiley Blevins. Are you noticing a pattern happening here?? Lol. This book suggests common causes of failure and 7 ingredients for success. Where the other book, Teaching Phonics & Word Study, is for upper grades, this book is for starting strong and building the foundation at the K-2 level.
The last book, Week-By-Week Phonics & Word Study is a book of mini lessons with skill building activities. As with all things reading, whatever you are working on, it should develop and lead to improved fluency and comprehension. That is the whole point of reading- understanding what has been written.
If you like ideas for your To Be Read book list, you can download this Best of Books FREEBIE The books listed are all different than the ones listed above except one! I have included some of the best books in guided reading, writing, fluency and phonics/spelling. If you are already signed up for our newsletter, this FREE download is already in your Free Resources Library! And your link, if you forgot it, is in your email today. If you haven't signed up, what are you waiting for?? Get signed up here!
So….what are you reading to sharpen your skills this year? Share in the comments so we can check them out!
As we are on this theme of multisyllabic words and phonics improving fluency, we have some new activities for you! Building Fluency through Multisyllabic Words Used in Fluency Phrases. In each resource in this series, multisyllabic words are used in short phrases. It is a companion to our Word Triangles.
After practicing the fluency phrase cards, students can then move on to the fluency comprehension cards. They choose the answer that describes the picture or the word that fits the fluency phrase. Again, building phonics and decoding skills with multisyllabic words to lead to improved fluency and comprehension!
You can find the bundle of this resource here. Each resource can be found separately also. The bundle that comes first in this series, with the word triangles, can be found here.