I'm a bit behind some of you with my classroom reveal. I finally got pictures taken of my classroom. This front and back shot of my desk may be the only time it's this clean! Small secret- I put some paperwork in my desk drawer for the photo!
I keep my book sets in baskets on this shelf for my small group reading. The sets are leveled according to Fountas and Pinnell. Some of the books I use for read alouds are in the baskets underneath.
My computer area. I was finally able to get rid of my unbelievably slow desktop this year. See my AirLiner? Love using that for my Smartboard!
I bought new baskets this year from Dollar Tree for my classroom library and printed new basket tags.
More books and some supplies. Some of the baskets are empty for now. I am sure I will quickly find a way to fill them!
Just a wider shot of our classroom library and meeting area. We meet her when I read to the groups and when I introduce a new comprehension skill. I was reading I Like Myself this day and we were practicing Turn & Talk with your partner about what we like about ourselves.
This is my classroom library check out system. I will be posting later about how I use this and how I have a large number of students checking out books.
This small shelf holds our Interactive Reader's Notebooks. Love, love using these notebooks for students to organize their learning. Great way to show parents what students are learning and how their learning is progressing through out the year.
One of our reading areas. Students cannot get enough of these rocking, blue chairs!
My Focus Wall….this is where we do a lot of quick analyzing of our texts and I post a reminder of what our comprehension focus is that week with the comprehension posters. Having this Focus Wall really does help us get these quick focus points in each week. Great way to manage these skills!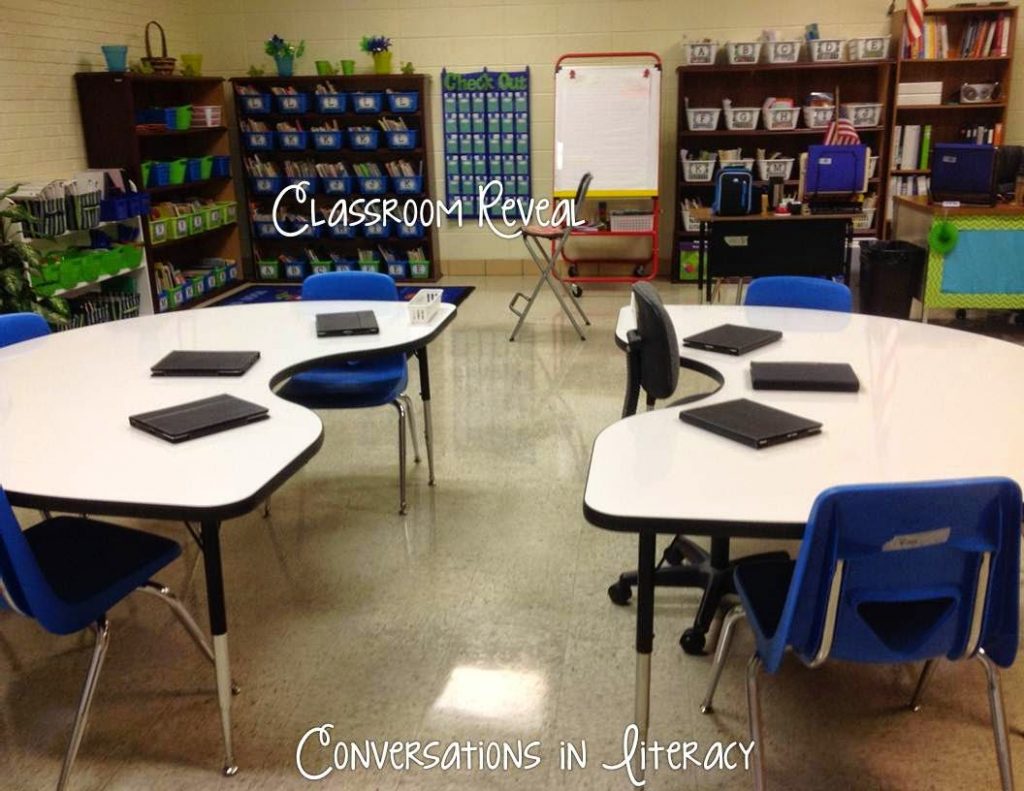 Our small group reading area. A lot of reading and deep thinking goes on here! These are my wipe off tables that so many of you have asked about that students can mark on with dry erase markers. Our iPads stay at the top of the table ready to be used for each group. We use them almost every single day.
Just a little decoration hanging from the ceiling.
I hope you enjoyed having a small peek into my room this year!