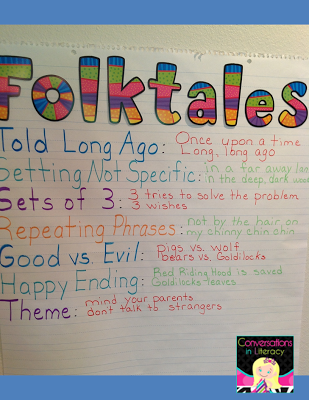 I remember when I was a little girl, my grandma telling me stories at bedtime- The Three Little Pigs, Red Riding Hood, Goldilocks and the Three Bears. All the good ones! Such special memories.
So of course, I love passing these folktales on to my students. We make anchor charts and learn what makes a story a folktale. And it is all about providing evidence to prove what we think.
Another chart that is useful when studying folktales is a Theme chart. Themes can be a little tough at first for students, especially some struggling readers, to grasp. But with practice, they can get it!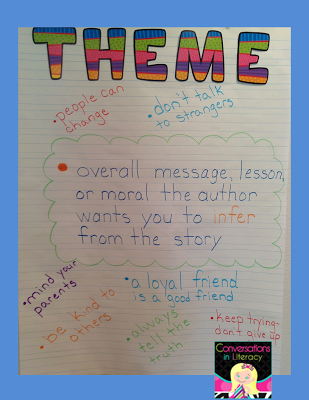 I like to spend some quality time discussing characters in folktales…their character traits, the motivation behind why they behave the way they do, and if the character changes by the end of the story.
My youngest son loved this story when he was little and it makes a great comparison read to the Three Little Pigs by James Marshall.
I read the Three Little Wolves and the Big Bad Pig to the students since it was above their reading level. Then they read The Three Little Pigs. They were then ready to begin discussing character traits and changes that occur in those characters. That is so important that the students can do that for common core.
We do a lot of comparisons between characters like comparing the 3 pigs to the 3 wolves or the wolf to the big bad pig. The students, after filling in comparison pages, made these pigs to display their writings.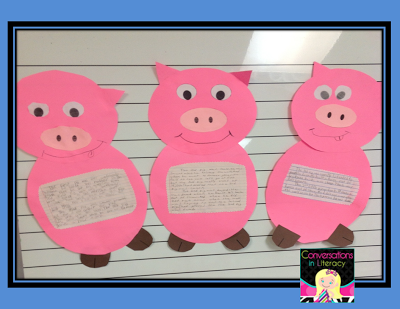 They like to do comparisons with the wolves too. And here is where you can bring in some of the other folktales like Goldilocks and the Three Bears and Red Riding Hood- again James Marshall has retold these too.