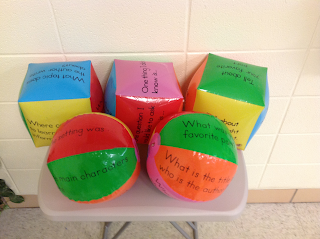 We all know that kids like to throw things, right? I have even written a post about how we throw beach balls around in my classroom (click on here to read about this fun idea if you missed it before).


How about throwing or rolling balls and cubes to build comprehension skills? These really are great to use! The comprehension balls go with fictional stories and most of the cubes go along with informational books.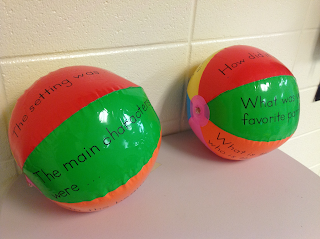 Of course, you can't see all the spaces in a picture. But these comprehension balls have questions that go along with the common core for reading literature. Some of the questions are:


What is the title and who is the author? My favorite part was …
Who are the main characters? The setting was …
What is the setting? The main characters were …
What happened in the story? In the beginning …
How did it end? In the middle …
What is your favorite part? At the end …


But my favorite are the comprehension cubes! They are great for addressing some of the common core on reading informational text.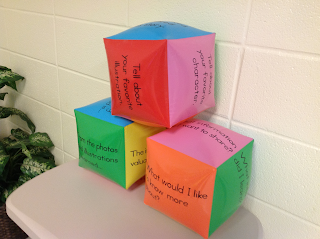 There are too many questions on the cubes to write them all for you but some of the questions that I like are:


Tell about the words you learned.
Tell why you liked or disliked this story.
What would I like to know more about from this book?
What topic did the author write about?
Where could I go to learn more information?
From the photos and illustrations, I learned …


These cubes and balls can be used in a whole group setting after reading a book or they can be used in small groups. You could even use them in literacy centers. They are just another way to get in comprehension practice, but in a different way than normal. I like to mix things up a bit and keep it interesting for the students! I'm pretty sure they like it anytime they get to throw gently toss things in class!