Thankfulness…gratitude…being appreciative for the people and things in our lives. During this season of Thanksgiving, I really wanted my students to think about who or what they are thankful for. To really think about it and the reasons why they were thankful.
I was so pleased with the ideas they came up with! Most of their thoughts centered around other people, not just objects- although there were a few items picked. But mostly it was family or friends or activities that centered around friends. One little girl, who lost her older brother last year in a drowning accident while they were on vacation, chose almost every single day to write about a person that was important to her. Sometimes we think kids these days don't get it. But let me tell you, these kids GET it!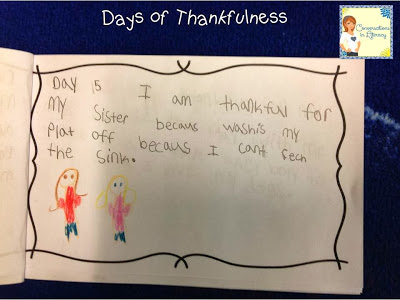 I love that last one- she is thankful for her sister because the sister washes her plate off for her since my student can't reach the sink!
We did a lot of talking about making our writing dollar writing and not penny writing. Adding details about why we are thankful and using more specific words than good or nice.
Now it's my turn to list some of the things that I am most grateful for. Truly I am blessed beyond measure!
I wish you all a fabulous Thanksgiving with your family and friends and a table full of delicious food!