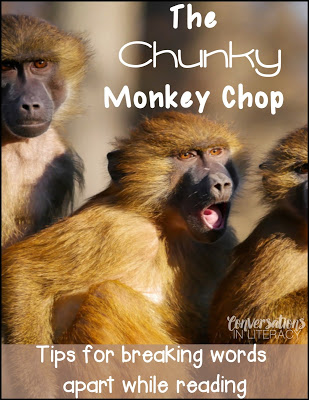 We've been doing the Chunky Monkey Chop a lot recently during guided reading.  It's catchy and easy for the kids to remember!  This reading strategy helps my little readers break apart words as they are reading.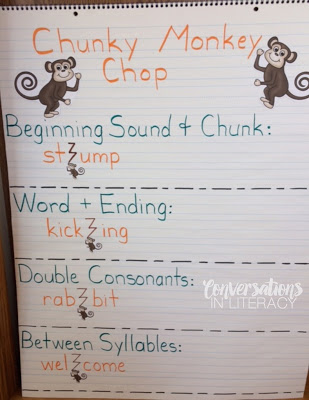 We started with a blank chart and students gave me different ways they would  use Chunky Monkey to break a word.  Name the strategy and give an example of it on your chart.
We've used the strategy Chunky Monkey for quite awhile.  They know to break apart the words and not stretch them if they are longer words.  Now my students are working on using this strategy quickly and efficiently.  
I want them to be able to break the word and also to be able to link it to which specific Chunky Monkey Chop helped them.  Being able to link to the specific chop helps strengthen the skill for the students.  They love to write their words on Post Its and place them on the chart.  If you use Post Its, you can use the same chart again on different days or for different groups.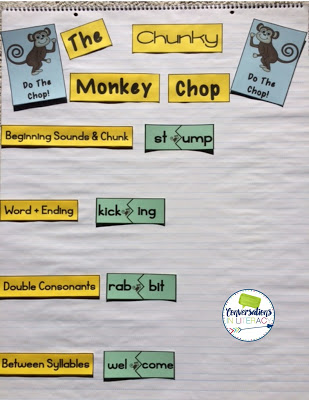 Students sort words that are already "chopped" to provide scaffolding when learning to break words apart.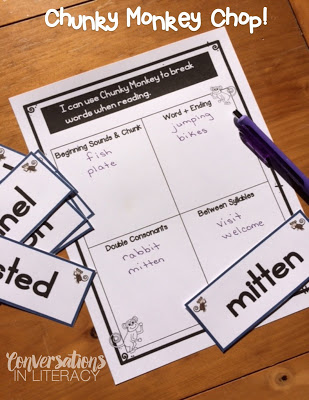 Words that are not "chopped" can be used in literacy centers with recording sheets.