I have an new app to share with you today and a new idea about downloading and using ereader books on your iPads. I cannot wait to begin to use these books!
Have you tried the Eggy Alphabet app? I really like this app. It was free for awhile, but has since gone back to being a priced app. I was able to get it while it was free, but you might want to get it anyway. It really is a a good app with a lot to offer.
Students can write their letter and then check it against the correct one. I like that feature that they can check themselves.
In Eggy Alphabet, students can listen to words and choose the beginning sounds. The app keeps track of how many of these they get correct. Then you can check the report to see how they are doing. Each student signs in with their first name so they can all have progress reports.
The app also has ending sounds and this picture shows how you can set it to ask the student if a picture begins with a particular sound or not. They way if you are working with Mm, you can set it for just that letter sound. Very good for extra practice or for tutoring!
I am so excited to try these Reading A-Z books for the iPads!! They are really cool and I think the students are going to just love having a different experience of reading by using the iPads. There are several Reading A-Z books that are free to download. Or if your school decides to fund it, you can purchase the whole set of books for a particular reading level. This is something that I would like to look into farther. Great way to give students another experience with technology, save time downloading and printing, and save paper!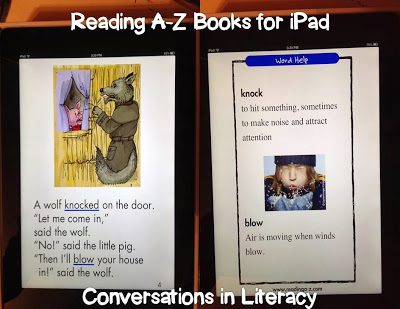 One of the neat features of these ereader books is Word Help. If a word is underlined in blue in the story, students can tap it to be taken to a page that gives the definition. Isn't that a great way for students to use a dictionary? I think they would be more likely to use it to look up unknown words than when using a regular book.
There are non-fiction books too. And at the end of the books there are comprehension questions that Reading A-Z has included. I usually always by pass comprehension questions like that that are included, but the ones I have seen from Reading A-Z ebooks are really pretty good and worthwhile using.
What about you? Do you still read all or mostly regular books? Or have you switched over to reading mostly on ereaders or the iPad? I switched over to the ereaders and iPads a while ago and LOVE it!! I thought I would miss the feel of a book. But I don't!