Growth mindset is generally known as developing your abilities through dedication and hard work.  I like to say its persevering even when the job is difficult.  Learning not to just give up; try something else.  And growth mindset is a great way for fostering this kind of thinking in our readers.  Learning to work hard and try different strategies when reading gets tough.
If you have not read the book Wolf! by Becky Bloom, you are going to want to get this book!  I don't know if Becky Bloom had growth mindset in mind when she wrote it, but it is perfect for teaching lessons on how to stick with reading even if it's hard.
Wolf meets 3 other animals at the farm who are reading.  They do not give him any attention as they are really interested in their books.  Wolf decides he too will learn to read.  But he soon finds out, reading isn't always easy.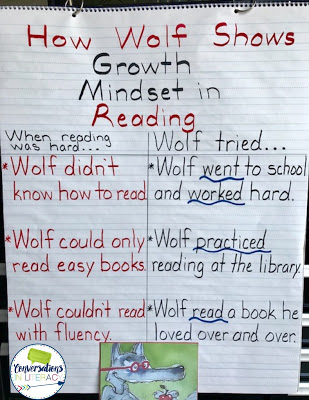 Creating an anchor chart helps students see the difficulties Wolf comes up against, but that he NEVER gives up.  He tries something new and works hard.  Notice how the words in red on the left side of the chart are mostly negative.  But Wolf uses actions to DO something to improve his reading.  I love how the author shows how Wolf takes a difficult task, works hard and shows how he improves.  And he doesn't become great right away.  It happened over time with hard work and not giving up!  Isn't that just what we want our students to do?  LOVE IT!
If you are teaching Growth Mindset, you might want to check out this freebie!  
Print the banner and have students fill out their reading goals.  Then the students write what actions they will take to word towards their goals!  Just like Wolf!
If you have students who need to work on fluency as part of their reading goals,  try teaching them to scoop words into meaningful phrases.  These reading intervention binders are perfect for this goal and are no prep- just print and go!  Each binder is for a different reading level and are available as a bundle or individually.  If you want to check them out, click here.
Some of my friends have got some awesome Growth Mindset ideas for you too!!  Be sure to read through these ideas below!