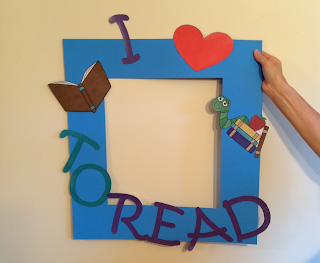 I have been seeing these cute 1st day of … frames, but I am not super creative. Have you seen some of those Nailed It! pictures where people try to make something they have seen on Pinterest that is oh so cute and lovely? Then they try to make it and it turns out messy, looking like a 2 year old made it and all horrible- like a train wreck?


Well, that is what I am always afraid will happen when I try to make something! But my friend, Tammy over at Forever in First, sparked an idea for me that I thought I just might, maybe be able to do. She made a 1st Day of School frame and you can see this cute creativity here.



I teach reading, so I don't have students on the first day. But I like those frames! So I made one, but made it to fit my situation and need.
I will be using this frame to take pictures of my students. I will have them hold up the frame and get their picture looking through it. I can't wait to see my students' sweet little faces looking back at me through a frame that says they like to read!!


Then the pictures will go up on the wall or bulletin board attached to their work that is being displayed. I find that pictures of students with their work creates more interest in the bulletin board.


When I get pictures taken and put up with the students' work, I will have to take more pictures of that to show you! But for now, I am going to just enjoy that my frame turned out okay and hopefully isn't going to make it into one of those Nailed It! pictures! 🙂




Tara at 4th Grade Frolicks has Monday Made It and I am joining in on the fun! See the other great crafts made by clicking on her button below. Not a Nailed It it the whole bunch!