I LOVE big books and I cannot lie! Okay, I love books big and small. And I love talking about and sharing good books with others!
Have you read this book? A teacher friend of mine recommended this book and at the time it was free on my iPad with the Kindle app. So I thought I would download it because you can't lose with free, right? Turns out it's a very funny and enjoyable book!


The author, John Pearson, lost his regular job and became a third grade math teacher. He chronicles his days with his third grade students…students much like those that are in our classes or have been in our classes at one time or other. So funny!! My family just looks at me when I am reading this because the stories he tells make me literally laugh out loud. We've had these kids so we completely understand what he is going through in his first year of teaching.


This book is no longer free on Amazon, but if you want to download it, it will cost you $2.99. He also has a sequel, Learn Me Gooder. It is also $2.99 and may be my next download!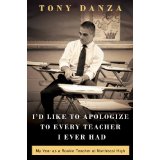 Another book I am thinking about downloading is Tony Danza's I'd Like to Apologize to Every Teacher I Ever Had. Have you read this book? It just sounds like a book that a teacher would appreciate. One where someone finally gets what we do and that we pour ourselves into our students and this job of teaching.
I like non-fiction books and when I find one about teachers I am automatically interested. Do you have any for me to add to my list of Books To Be Read? I want to hear about them if you do! 🙂