Last week was our Decision Meeting for RtI. We have this all member committee meeting twice a year- once in January and once in May. We hold it after our RtI cycle has been completed.


A quick review of our RtI process is students are universally screened using the DRA 2 reading kit. I also screen kindergartners on phonemic awareness and letter/sound identification. Those students not reaching benchmarks are automatically placed into RtI groups. As head of our RtI committee, I place students by grouping them with others of similar needs: similar reading levels, similar areas of low skills, intervention needs, etc…


Students that are in Tier I stay within the classroom to work on areas of need or for enrichment. Tiers II and III go out to work in small groups (Tier II) or one on one (Tier III). Tier II for us is about 10 weeks long and Tier III lasts for about 12 weeks.


Each student starts with 2 and only two interventions to work towards mastering. When a skill is mastered, the student moves on to the next skill.




Decision Meeting
At the end of the cycle, I have scheduled classroom teachers to come to our meeting (one classroom teacher at a time) to meet with the committee. We discuss the progress made by the student, the RtI teacher talks about how the student performed for them, and the classroom teacher gives us input as to how the student is now doing in class. Then we look at the data:

* what was the student's DRA score before RtI and after?
* was there any improvement in that DRA score?
* are they now on grade level?
* did their weekly progress graph show improvement?
* do they have other supports: Title 1, Reading Recovery, tutoring, etc…


You can click here to read my post and see the graph we use to show the results of weekly progress monitoring.


As you can see, our decisions are driven by data. We take into consideration all that we can to help us make an informed decision on each child.
When we first began this RtI process, even though we had a rubric to go by, my team had a very difficult time moving students in and out of tiers. They are so caring that they hated to remove supports from the students for fear that they would stop improving. I began at each meeting reminding everyone that we needed to use the data and our rubric to help us make informed decisions. We needed to remove emotions from the decisions. That has helped us so much!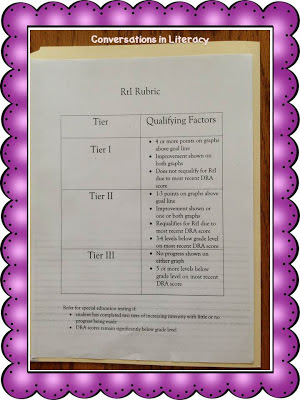 This rubric is a work in progress. It is very simplistic and data driven on purpose and my committee uses it as a guide, not a hard and fast rule. Once they started using it, decisions were made more efficiently and without quite so many emotions. Discussions when not using a rubric could become heated and long at times- all because as teachers we care so much about the success of our students!
This is our results from this past data decision meeting and we were very happy with the results. All of the green and the blue represents students who improved with their reading skills enough for it to transfer over into their DRA levels!! The few students who didn't show improvement have either been assessed for special education, moved up into another tier or had other helps recommended.
At our school, we are concentrating on grades K-2 with RtI. That means we serve K-5, but we are trying to catch K-2 and intervene early. We feel it is much easier to intervene and catch students up on reading skills in those grades than in the upper grades. It does seem to be working very well. Our numbers in RtI for the upper grades has really dropped this year!
Our RtI is just that- our school's way of implementing RtI. It works quite well for us. It may not work for everyone. How much into RtI is your school? Is it implemented completely different than ours? I would love to hear how your school does it and how it is working for you. I am always looking to tweak our program and improve it any way I can. Thanks!!