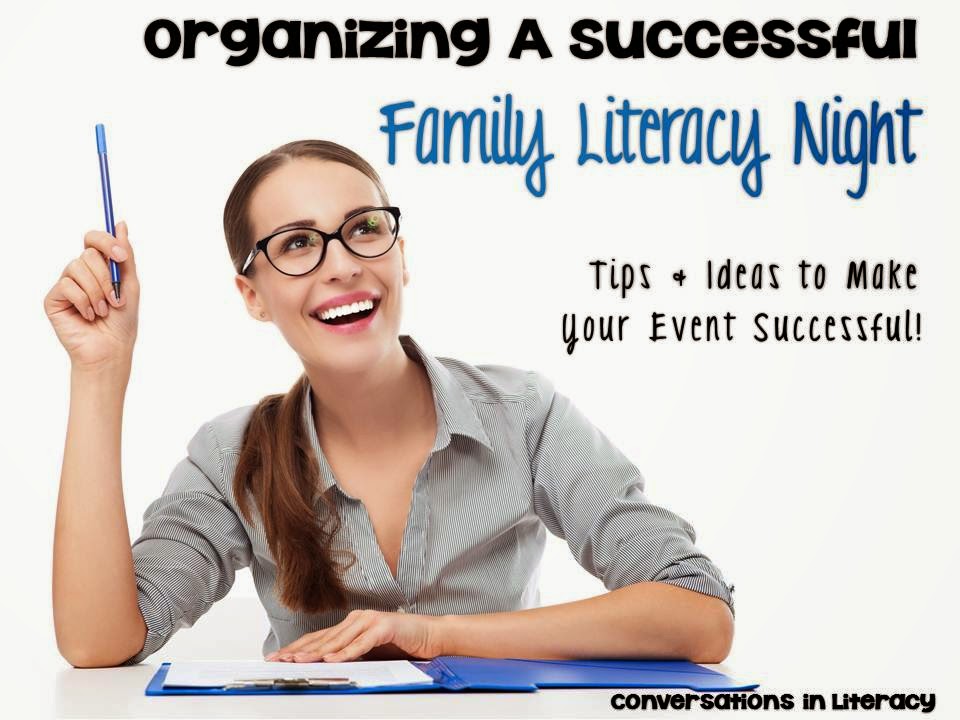 This past week we held our Family Literacy Night.  This event is such a fun night for our families!  It takes a lot of pre-planning and work to pull it off, but it is totally worth it!  Last year, we had a Literacy Scavenger Hunt and you can read about that here.
If you are planning a Family Literacy Night for your school there are a few things to think about and plan beforehand.  
First, decide on your budget and your theme.  We went with Under the Sea this year.
Next, try to combine your event with another group's event on the same evening.  That will bring in a larger amount of families.  Our Scholastic Book Fair was happening that week and the night we chose was the same night that the book fair stayed open late for their family night.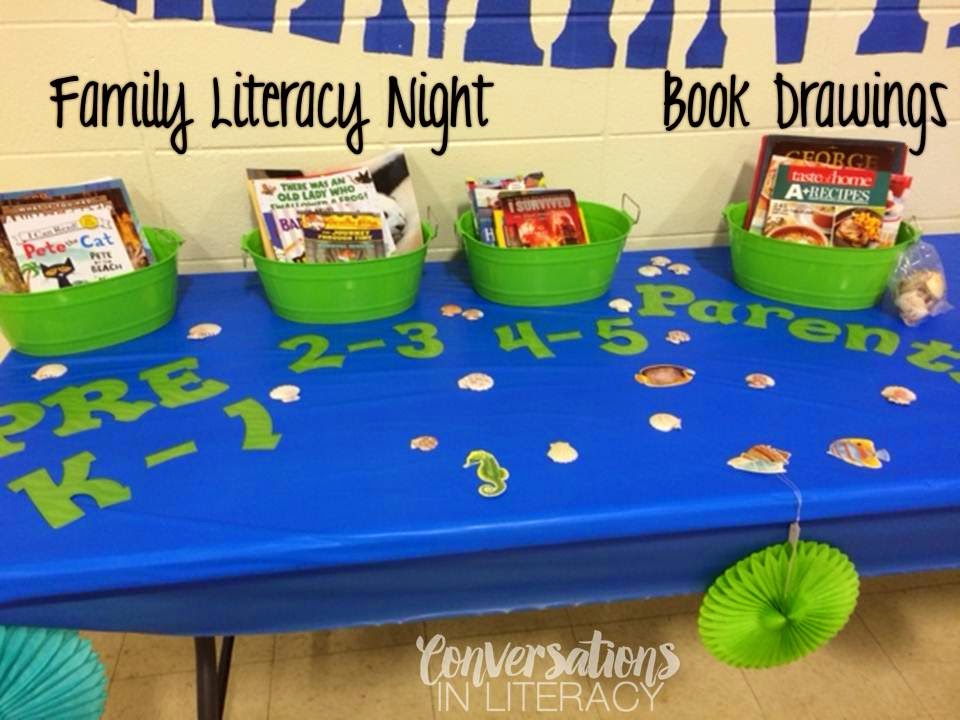 Try to get donations or funds for prizes.  We had goody bags ready for each family that walked through the door.  Inside the bags were coupons and information from local businesses.  We also bought books from the book fair (which helps our school library by buying them from the book fair) for a book drawing.  $10 gift cards were donated for our drawings as well as two bikes!!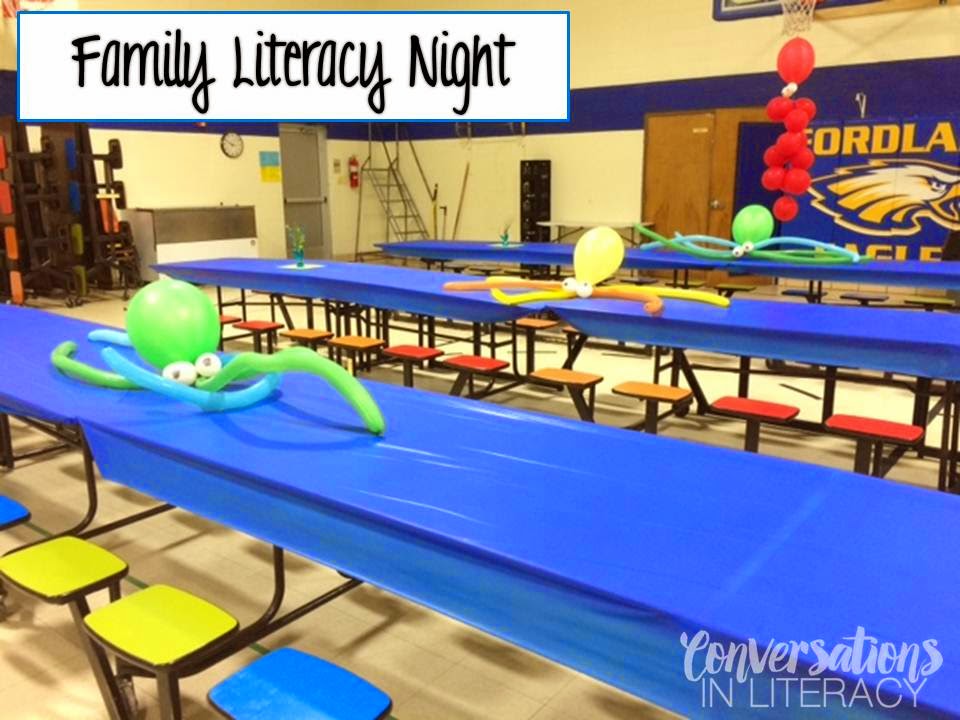 Serving food is huge!  We have done this so many different ways from having the food catered in to just serving milk and cupcakes.  Families show up for a free meal and appreciate it!  Our cooks stayed to cook and serve a spaghetti supper.  Mandy, from Teaching with Simplicity, made these super cute octopus center pieces!  Adorable!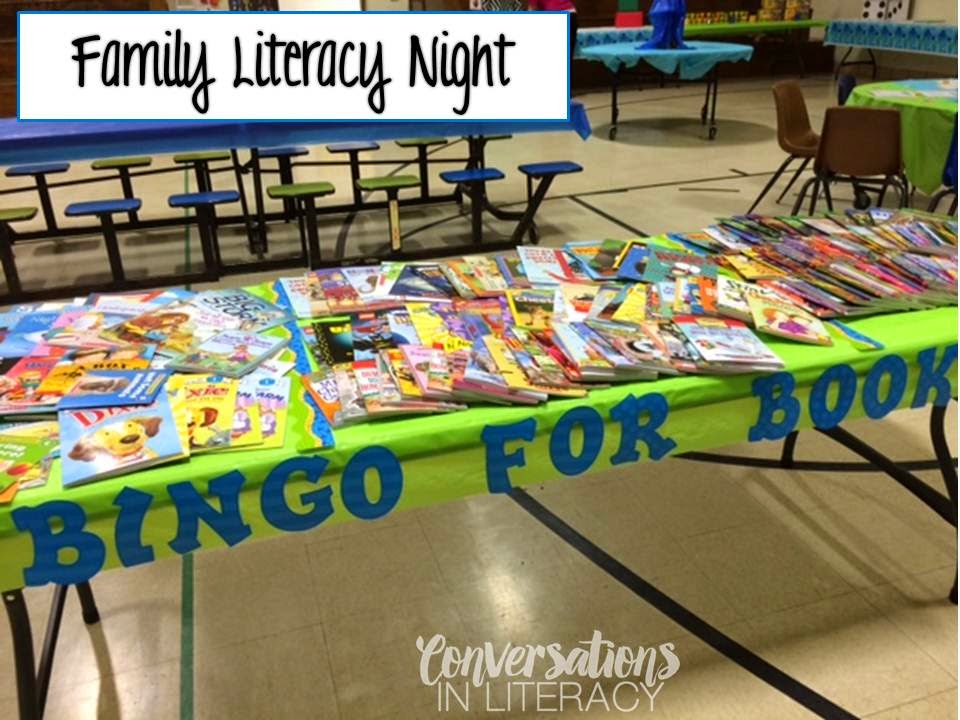 Plan different activities for the students and families to participate in together.  I had the Bingo for Books area.  I ordered a bunch of books from Scholastic's $1.00 book sale and had them on display so families could see what they could win.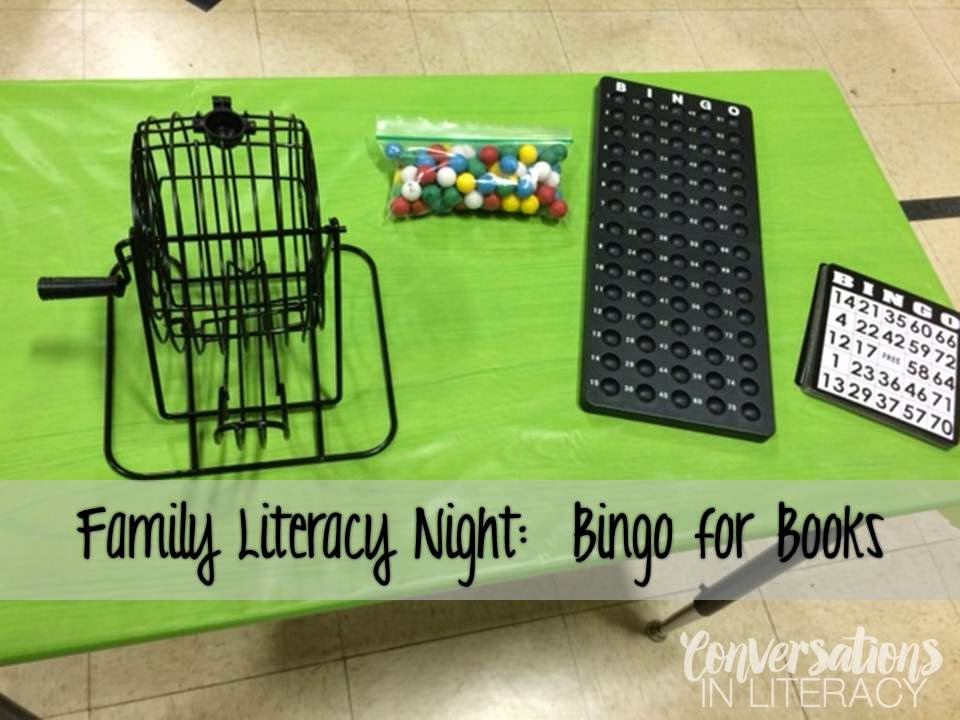 We had a small table for me to draw and call out numbers.  I could have used a megaphone!  There were so many people, I felt like I was having to shout  for players to hear the numbers being called!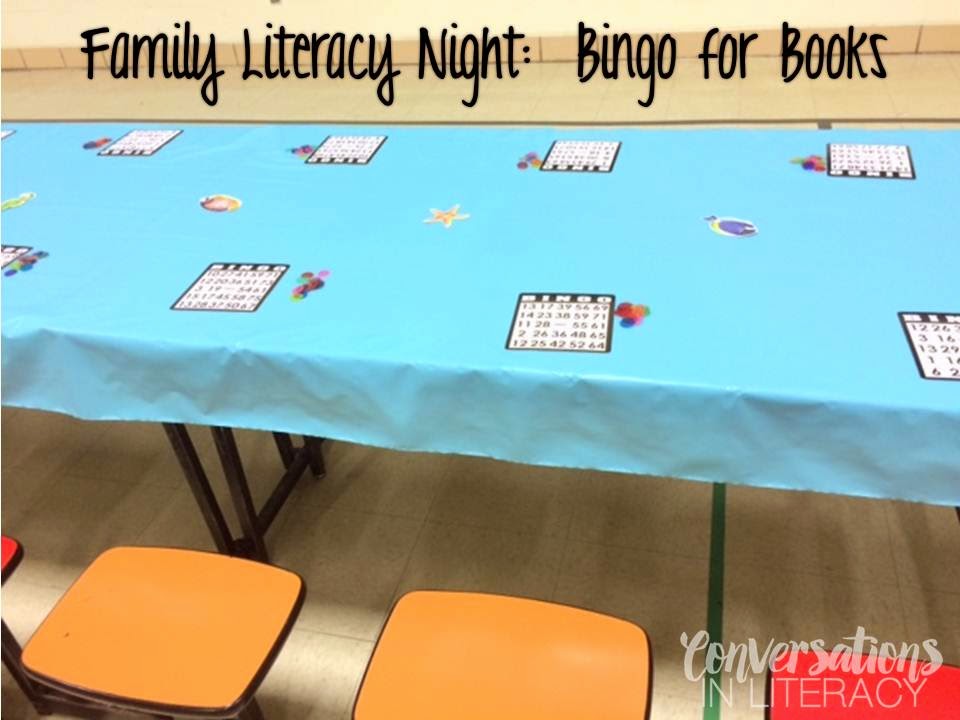 Be sure to have everything ready and organized for smoothness.  I had the Bingo cards and chips placed out on the tables before anyone even got there to play.  Families just dropped in on games as they wished.  We wanted the traffic in the areas to flow in and out nicely.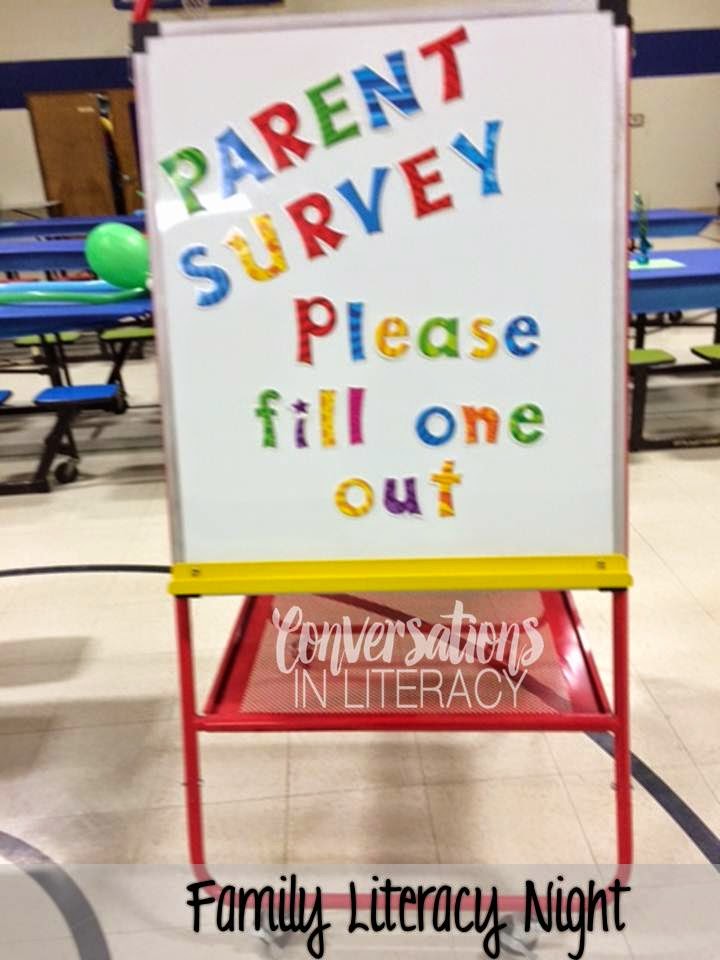 We pulled in technology by having parents fill out our parent questionnaire at this area.  It was all set up on Google forms so they could sit down and easily fill them out without any problems.  Another area was using a Google form to fill out for the prize drawings.  
One more tip is to be sure you get the word out in many different ways to reach your families.  We sent out invitations about the night on colored paper a week early.  Then we sent out another reminder the night before.  One key way to promote your event is to get your classroom teachers to talk about it every day the week of your event and get kids excited about coming.  You can also do a School Reach to remind parents or send out a text with Remind 101.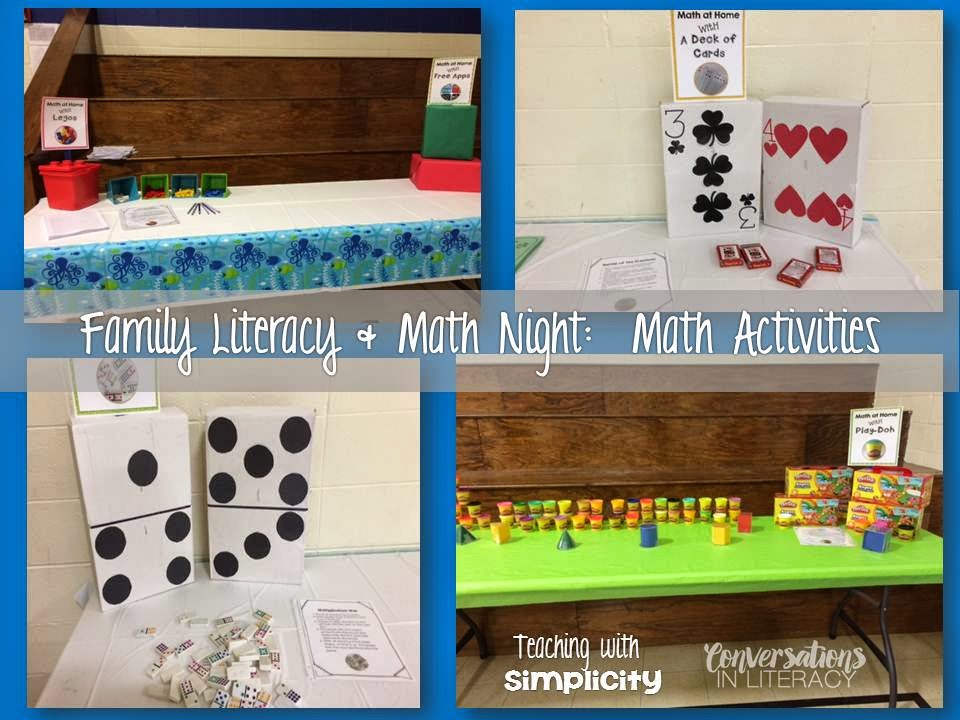 Not only did we have literacy activities, we also had some fun math activities for our families.  Remember Mandy, who put the cute octopus together for the tables?  She did the math activities for our family night.  To check out how these math activities were done and what treats the kids went home with click the button below to be taken to her blog, Teaching with Simplicity.