Isn't that such a cute poem to use for National Poetry Month? I found it and thought it would be great to use for linking comprehension to fluency. It is long enough for students to practice their fluency on and has lots of great images for them to use to help them understand it. Timothy Rasinski suggests using poetry to improve students' fluency. Poems have rhythm, rhyme and repetition which he says will help build their fluency. And they are short enough to use for multiple readings. He even suggests setting your classroom up for poetry slams! That would be so fun! Students practice their poems during the week for fluency and interpretation of them. Then come Friday, you darken the room, turn on some lamps and students take turns sharing their poems. The teacher could participate in this too. I think these tall barstools in my room would be perfect for this.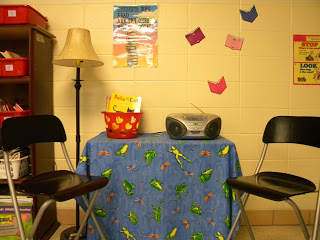 April is the perfect time to put into practice of poetry slams since this is National Poetry Month. This lends itself perfectly for students examining and reading all types of poetry and then on to writing different types of poetry. Kids love to write poetry and are good at it! I love seeing what their minds come up with. So the next step after practicing and reading published poetry, students can then begin to share during poetry slams their own poetry! How powerful would that be for them to share and celebrate their own poems after practicing them all week? We know they love author's chair, so poetry slams are bound to be a favorite too!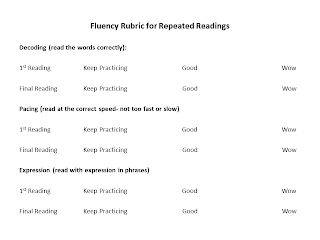 This is a fluency rubric that I adapted from Dr. Rasinski to fit my students and their needs. Maybe it would work for your students too. Feel free to grab it if it does!