Comprehension strategies can be fun!  Adding in Thinking Marks helps reading comprehension activities become a lot more engaging, especially when students get to use sticky notes!  My students just love using Post It notes during small group reading.  Or anytime really!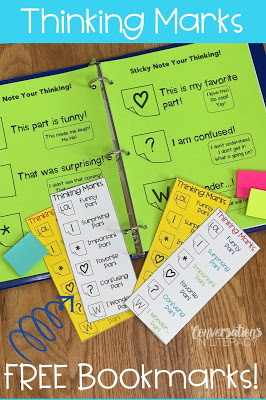 I like to help students be more intentional with their comprehension as they read.  Using thinking marks anchor charts and bookmarks helps them to achieve this.  
If you have signed up for our newsletter, you will find these bookmarks in your free resource file.  Yay!  If you have not signed up yet, you can get them right here!  
At first, students seem to use use the heart, or favorite part, of the story a lot.  But they soon move into using the other thinking marks.  I am always amazed when they use the ? or confusing part mark to get help on words or parts that they didn't understand.  It is powerful to have other students in the group help each other when someone has used this mark.
Nonfiction texts always seem to get a lot of surprising marks!  I guess we all like fun facts that we didn't already know!
If you are looking for ways to get students to use text based evidence thinking marks and the I agree/disagree posters are the way to do it in a fun way!  
As soon as I ask students if anyone marked a surprising part or important part or any of the others, students immediately go to their book, open it and find that section.  That is exactly what I am wanting…students getting back into the text to prove their thinking!