Details after 1st Reading vs. after Rereading
I am sure you have heard of having students reread stories. There are many reasons why. Building fluency is one. I use rereading a lot during RtI to increase my students' fluency. I have for many years had students reread their books. I have them read their book on day one for a specific purpose- could be that we have picture walked the story and made a prediction. I may have them read to check that prediction. Then day two they will reread this same story again, but this time it will be for another purpose like comparing the actions of this character to a character from a previous book. Then on day three, it will be a completely different purpose like to answer an inferential question.


But I decided to use a poem with one of my RtI students who is presently on Tier III to help HER to really see what rereading can do for her comprehension. I needed HER to see what a valuable tool it could be since she was struggling a bit understanding what she read. I already knew how valuable it was, but she didn't. Not yet…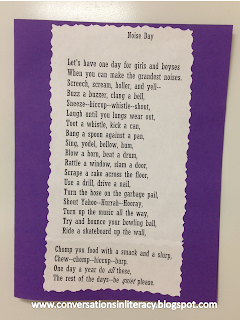 So I chose a poem with lots of things going on it- Noise Day by Shel Silverstein. It has lots different actions and is easily visualized. I had her read it once and then do a quick sketch of what she remembered.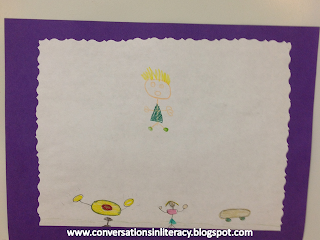 As you can see, she did not get many details after one reading of the poem.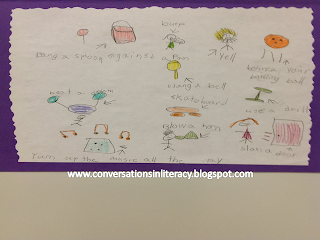 Wow!! Look at the difference between the two sketches! She could easily "see" how many more details from the poem that she remembered after rereading it. It was like a little light bulb went on for her. 🙂


The next step for her is applying what she has just figured out. She needs to remember to reread now for tests and when answering questions on paper in class. She has an assessment coming up and I am hoping that she can remember to apply this new skill and then carry it through!