How are your RtI groups progressing?  Do you look forward to this intervention time or is it a time of frustration?  I do hope it is a time you and your students enjoy and feel like progress is being made!
One of my students, even though she is in third grade, still needs the scaffolding of a sound box when breaking multisyllabic words.  She seems to have difficulty holding onto the sounds in the first syllable while putting together the sounds in the second syllable.  Using sound boxes so that it is a visual scaffold is helping her.  She is working hard to push those sounds back together into a word while holding on to all the sounds in her head.  Using paint strips is just a way to make it different and engaging.  Drawing boxes on paper is fine too.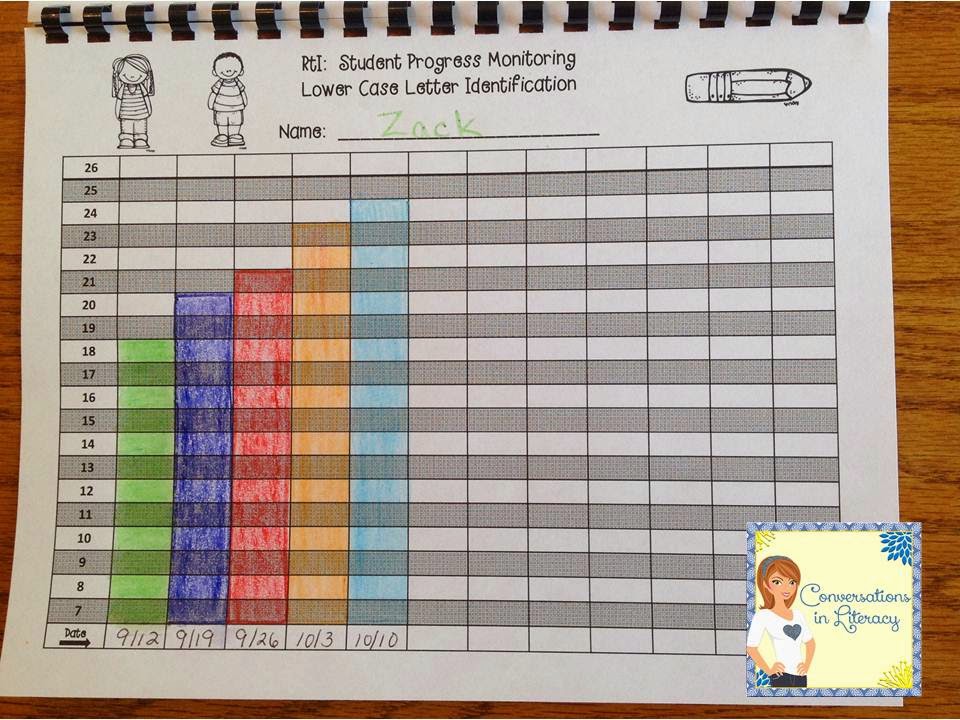 Are you having your students track their progress in RtI?  It can be so motivating for them to see that graph line go up with the hard work they are putting in to their interventions!  
You need to keep track of the students' data for RtI too.  3-ring binders are great for this.  This binder set is for kindergarten phonemic awareness skills and letter identification/sounds.  Tracking the data you get from weekly progress monitoring helps you make decisions that drive your instruction.  
This RtI Binder is for first grade phonics skills, fluency, sight words, etc… Students keep their own binder or folder (one for boys and one for girls) and the teacher keeps one.
This is an example of what the teacher graph might look like with the goal line plotted and the weekly scores from progress monitoring plotted in too.  This student is making good progress which shows the intervention is currently working for that student.
RTI Data Binders are available for kindergarten through fifth grade.  You can check each of them out by clicking here.
These are my RtI Reading Intervention visual plans for this week.  The students have off school on Monday while the teachers plan and meet together. We are learning about the new teacher evaluation system that our district is moving towards.  If you click the picture or click here, you can download the plan with the pictures hyperlinked to the resources.