Binders, binders, binders!
Do you test for fluency during your Response to Intervention (RtI) time? For some students we use fluency tests if that is the appropriate skill at that time for them. And once again, Reading A-Z has helped me out with this! This site has an abundance of fluency tests ready to go if that is what you need.




Last week, I explained how we used Reading A-Z to help us with phonemic awareness assessments- click here to read that post. I am a huge supporter of the RtI process and truly believe that it works. But finding enough materials that work for your situation can be difficult at times.


I so appreciated that Reading A-Z already had one minute fluency assessments ready to use. If you have ever made these assessments, you know how much work is involved!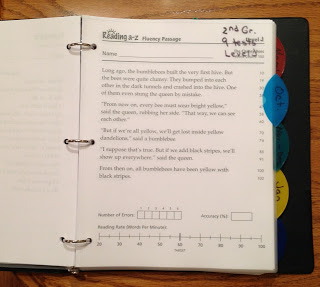 I have 5 binders for weekly fluency assessments- one each for grades one through five. But I rarely use the first grade binder. It's not really appropriate to be timing first grade students in the first semester of the year. And I hardly ever use it even in the second semester. I don't want them to be concentrating on trying to read fast. Fluency is not about reading fast anyway! I want my students to be able to read their words automatically, smoothly reading with expression, and read at the correct pace. That does not mean racing through a passage as fast as they can go. The goal of reading with fluency is to improve the student's comprehension. Okay, stepping off my soap box now! 🙂


I have each binder organized by months with assessments in each month increasing in difficulty. These passages work great for our weekly progress monitoring. Our RtI cycle runs from September through December and then again from February through April. So what students would be expected to read fluently in October would need to be different than what they read in March.


What do you use for fluency tests? Does it work for you? I would love to hear about it!