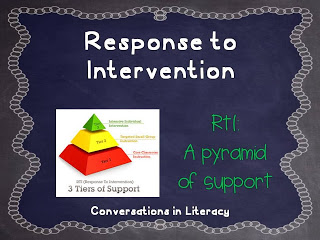 When teachers email me asking about RtI, they generally want to know how to get RtI started in their school. I have found that teachers are in the same position I was in when I started RtI in my school- you are told the school is implementing it, but no one really knows what you need.
I did a LOT and I do mean a LOT of research trying to understand the RtI process. It is not a quick thing to learn and implement. But good news! There is a lot of information out there…good information and a lot more of it than just a few years ago.
The best way to begin is to be sure you and your team (if you have one) has a good understanding of what Response to Intervention is and can be. You need to understand the tiers and decide what they will look like at your school. Please understand that RtI can look different for each school. These tiers are just a general overview and may not be exactly what your school does.
Tier I: Everyone is in tier I until moved into a higher level tier because of increased need of support. This tier's needs are generally met within the classroom with core instruction. Most students, even those who are slightly below level can be instructed with scaffolding and differentiated teaching to meet their needs in the class. About 80% of students will be in Tier I.
Tier II: Students that are below your school's designated benchmarks, may need to be placed into Tier II. Students placed here will be instructed in a targeted small group setting. In my state, we choose 2 areas of intervention at a time to give targeted instruction. When those are met, students are then instructed in a new area. About 15% of students may be in Tier II.
Tier III: Students not making adequate progress in Tier II and who are significantly below grade level are placed into Tier III. Students receive intensive, individual intervention at this tier. In my school, the instruction is more intensive and the interventions are for a longer period of time.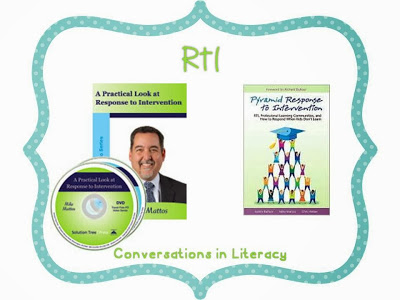 Anytime I am asked about RtI, I tell teachers that if they have a chance to hear Mike Mattos speak they need to go hear him! I was sent to one of his conferences and he was great!! He was able to clear up several confusions we had at our school and help up streamline our program. It was a huge help!
Another good source of information for an overview of RtI is the RtI Action Network. This site will give you lots of information and ideas for what RtI is and how to put the information together.
I really like this site, RtI 4 Success. You can look up a lot of different information, like what is universal screenings or progress monitorings and then see a chart with examples of each.
Remember, RtI looks different in each school and if you are looking to implement it, strengthen your existing program or just looking to increase your own knowledge there are a lot of places to get information. If your state has guidelines that is your first place to start. I try to follow our state's guidelines very closely. Also, find out what your administration is expecting from RtI. Then read and research all that you can!
RtI works and can be a huge benefit to students. It doesn't have to be a mountain of paperwork or just another hoop to jump through.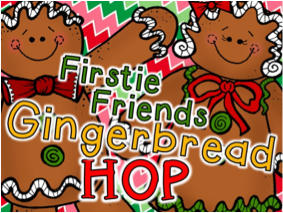 Have you heard? My Firstie Friends are having a Facebook Freebie Hop today!! You can click on the picture above to be taken to my Facebook page so you can begin collecting all your fabulous freebies!! You do NOT want to miss out on this! It begins at 2:00, so wait until then and then let all the fun begin!
Have a blessed Sunday!