This past week was our Spring Literacy and Math Family Night. The book fair was open until late so parents could come by after work with the family and purchase books. Clifford even made an appearance! Our Parents As Teachers had an activity for the little ones to do. And the Title teachers had activities.





Take a look at our cupcake table! Don't they look just like spring? They were pretty yummy too. The families got to enjoy cupcakes and milk while they read books and did math and literacy activities or just sat and visited.


Students could choose to estimate how many chocolate eggs were in a large plastic Easter egg or choose an egg from a basket and solve the math problem inside. They also got to do a literacy activity based on the book The Easter Egg by Jan Brett.



This sweet book is about all the other bunnies helping out their friend and the illustrations are beautiful! I found a really meaningful and fun activity from The Educator's Spin On It blog. You need to check them out!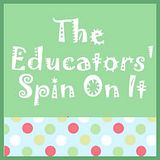 We made egg wreaths to go with the story. Students got to choose a circle for the wreath and then picked out eggs to glue on top. We used wallpaper from wallpaper books and scrapbook paper to make all of these. Inside the eggs, students wrote different things they could do to help others. It was so much fun to see these students of all ages working on their egg wreaths!
A fun time was had by all and who would have guessed the next day after our SPRING night school would dismiss early because of SNOW!! 🙂