Summer school let out about a week ago for my school. The last week of summer school I handed out these colorful Summer Literacy Folders to my reading students.
The folders had different activities in them depending on the student's grade and needs. My in-coming kindergartners got their first and last names in a plastic sleeve and a dry erase marker so they could practice learning to write their names. We worked on these during summer school. I also put in ABC cards so they could start learning their letters before school starts. I tried to place things in their folders that would be easy for them to practice on with a parent.
For the older students, they received 3 Reading A-Z books on their level and sight word cards. I spent some time trying to choose books for each student that they would be interested in reading. Reading A-Z is such a great resource for this!
I also placed a parent letter into the folder. The letter had been copied onto colored paper to make it easier for parents to find it and hopefully read it. The letters were also tailored to the grade and level of each student.
I am really hoping that these folders will get some use this summer from my students. If they would use them even just once per week, I would be thrilled!
I just finished this syllable counting pack up! I have been needing some syllable activities for my kinder reading groups and some of my RtI intervention groups. In this pack I included 3 different counting syllable activities and 2 different assessments. I have to give weekly progress monitoring assessments for RtI so I thought others might need that too.
"Friendly" Syllable count is a good way for students to count syllables and work on learning to read each other's names. Little guys love to work with names! The name plates in the pack are editable so you can type in your class names before printing!
In the syllable sorting, students choose one of the 30 picture cards. Then they say, clap & and count the syllables. The picture card is then placed on the correct sorting mat.
Syllable graphing is a fun activity! They draw a card, say the word, clap and count the syllables. Students draw the picture and write the word, then color the graphing boxes.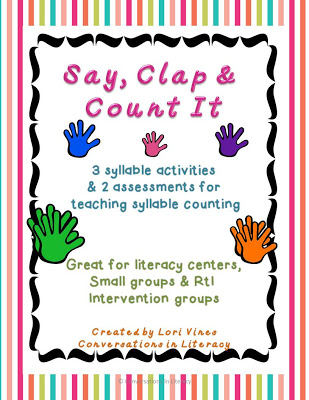 The syllable counting goes with this Kindergarten Assessment Binder. This binder contains ways to keep all of your assessment data organized and in one place. One of the areas that can be assessed is syllables. I am making packs of activities and assessments that go with this binder. Rhyming is next!
This is the alternate cover that is included in the Kindergarten Assessment Data Binder. Just click the picture if you want to check it out.
Enjoy your Sunday! We are having a cookout today with family. Fun times in the summer!
Don't forget to follow me in the Google Friend Connect and the Bloglovin button on my sidebar! I have been doing both since Google Friend Connect is supposedly not going away for now!
Do you have some great assessment ideas? Link up with Teaching in the Early years!