This is our second installment in tips for organizing guided reading. Last week, we covered organizing all the books teachers use for guided reading small groups. This time we are talking about organizing all the materials like guided reading lesson plans and anecdotal record notes and how to keep them organized so you don't have a chaotic mess!
I learned to keep folders for my lesson plans to make next year's planning for guided reading much more simple! No reason to reinvent the wheel every year.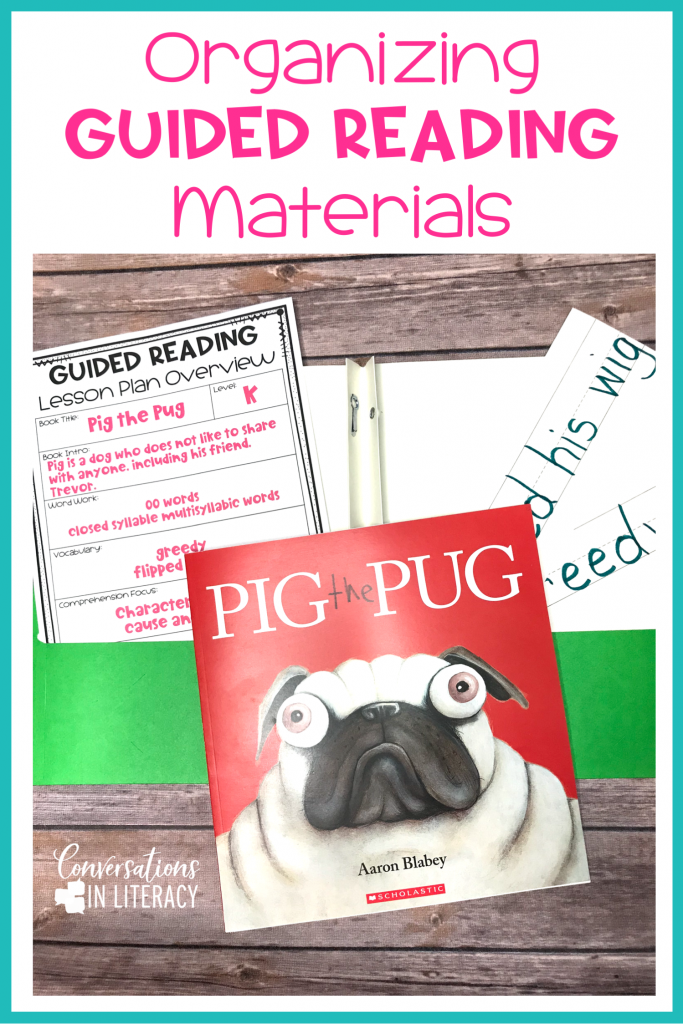 I like to use just regular folders for mine. Some people may want to use Google folders or hanging folders in a milk crate. Whatever works for you, just remember to do it. You think you will remember….but we all know how that goes!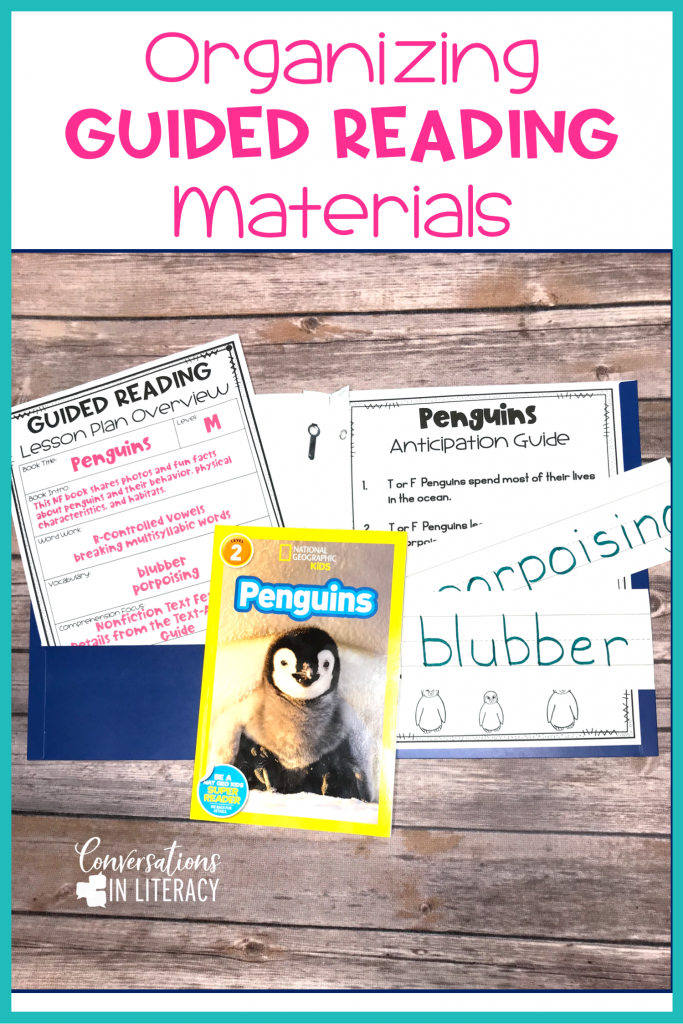 You can use different colors of folders for the genres that you will be teaching. Like this blue folder for nonfiction. Then group all your nonfiction folders together by book levels. Inside the folders, keep a Guided Reading Lesson Plan Overview sheet so you can just grab that page next year for lesson planning. It has spaces for book title, book level, and book intro. Then fill in the places for word work, vocabulary and comprehension skills. I also like to keep a copy of any graphic organizers that I will use in the folder, plus word cards. I want everything possible in that folder so I can just grab it and be as prepared next time as I can be. I don't have the whole lesson written out because every lesson will be different depending on the needs each year of your group. But your overall framework can be carried over so you don't forget what works well with the book.
You can grab this Guided Reading Lesson Plan Overview page by signing up for our newsletter. You can do that here. If you have already signed up, I am sending out a newsletter today (Sunday) that contains the link for it.
Another easy organizational tip that works for me is using these plastic drawer carts. Everyone it seems has them. They work great for guided reading small group materials. I use one drawer for each group.
Inside the drawers, I place my lesson plans for the group, the book we are going to be using, pointers, picture or word cards for word work, etc… Then you can just grab everything out of the drawer or just take the entire drawer with you to the table! So easy! And just put the whole drawer away when the group is done. I like all the things put away!
Another popular organizational tool is the plastic photo boxes. And I must say they are really great! You can get them in all clear or colored. I love the colors! So pretty! They are just the right size for task cards, picture sorting cards, and word cards. In this picture, I am using them for my multisyllabic word triangle cards. You can check them out here.
I like the new colors in the drawer carts! You can find these here. The plastic photo boxes are on sale at the time of this post. Click here to check it out.
The last big area to cover that teachers say they really struggle organizing is anecdotal records or guided reading notes. We need a system that we can grab quickly and easily take notes in. Otherwise, we have papers or sticky notes scattered everywhere and they never seem to make it into our notebook no matter how good our intentions are. I know I have been there!
I like to keep one guided reading anecdotal notebook per grade level. I service several grades. I also like to use different colors of notebooks to make it easy for me to grab the correct one when we are at the guided reading table.
I can keep my records, letter and sight word checklists, skill checklists, etc all in one place so I don't have to keep up with them. Organize your notebook with your papers and then you don't have to keep chasing papers! I also like to keep the running records in there too. You can see it here.
I hope these tips have helped spark some ideas for you to create a more organized and purposeful place in your classroom! Our last installment in this series of guided reading organization will be next week.