One of the skills my students need to learn and practice is vocabulary in context of the story. It may seem so easy for some students to be able to pick up vocabulary and their meaning when the meaning is right there in the story. But for a lot of students they have to be taught how the author may give them clues to the word meanings right within the text.
Have you seen these Bella and Harry books? They are super cute and the kids love them! And one thing I found was they are great for teaching vocabulary and meaning.
This Bella and Harry book would be great for March. These two cute dogs travel to different countries and teach us about the customs, history and landmarks. This picture is from Let's Visit Dublin! On the first read, students love the pictures and learning the history of Ireland. But besides being an engaging story, I can use it to teach students how to figure out the meaning of new vocabulary. Some students need it pointed out to them how authors might use cues in their writing for word meaning. For example, the use of the word "or" after the word ferries. Some students wouldn't know the word after "or" tells them what a ferry is. Same thing for using the parenthesis after the word charge. It's these little cues we need to spend some time teaching that can help students comprehend the text.
My students really loved the pictures in this book too- the use of all the green and the funny leprechaun and fairy showing up. One little first grader told me he really liked this book because he liked learning the history! I loved hearing that, especially from a first grader!! They learned about whether there are snakes in Ireland and castles too.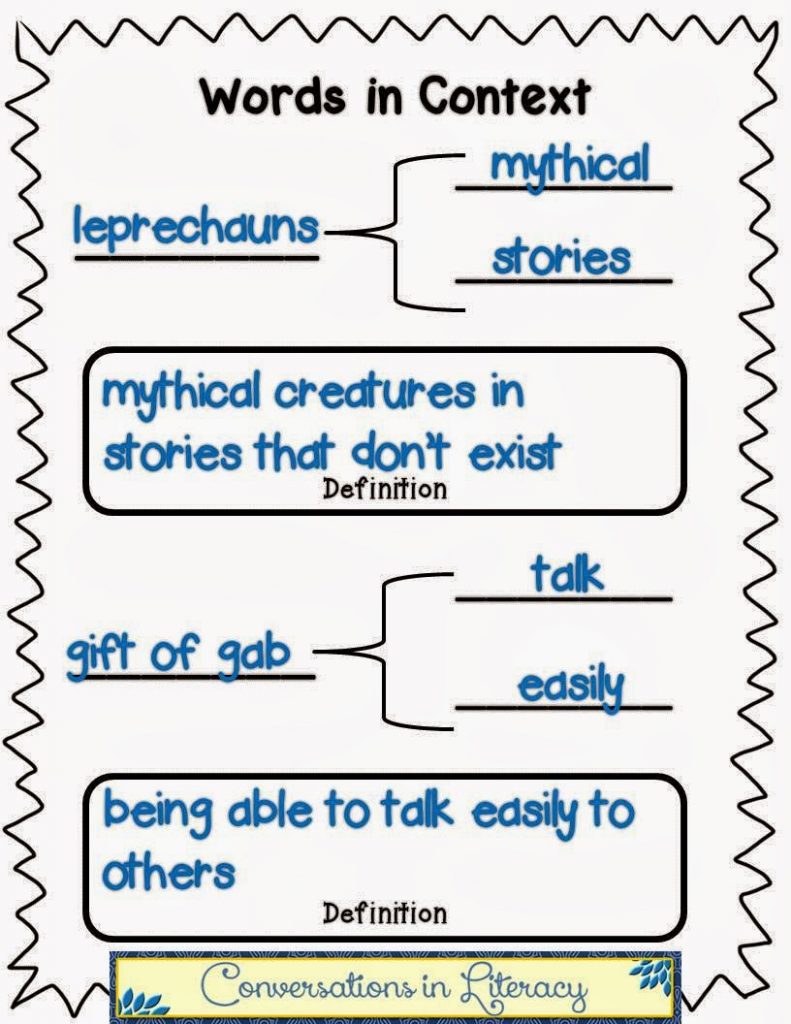 This is a page from my Reader's Notebook for students to write the new vocabulary word and then use clues from the text to figure out the word meaning using the brace map.
If you think your students would like these cute Bella and Harry stories click the first picture of the books or click here to be taken to their website. They have been awarded the Mom's Choice Award. Their website has games and lesson plans besides all the Bella and Harry books! Your students will love them!!
These Context Clues Task Cards are a fun way to have students practice this skill too! They can be used in two ways. First, students can record what they think the new word means. Then on another recording sheet, they can record the words they used as clues to determine the meaning on the new word. For some students that is a bit more difficult! Click here or on the pictures to check them out!