It's almost Parent Teacher Conference time!  I am always looking for ideas to display student work and what would be good to hand out to parents that would help them at home.
This We Are Readers bulletin board display was a lot of fun!  Students drew their own portraits and we folded paper for their book.  
Hanging a Welcome Banner is a good idea too!  You can hang it at your door or it can be a welcome for your whole hallway!  Click here to get it free!
The Welcome Banner also includes these student response pennants!  They would be great for parent teacher conferences.
Book Shelfies and QR codes was a lot of fun too!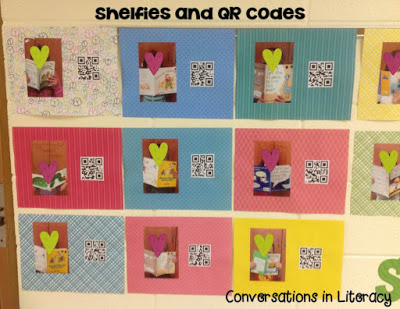 Take student pictures with just their eyes above their favorite books.  Parents have to try to find their child's picture.  They scan the QR codes with their phones to check if they are right or not.  A lot of fun!
For any students still struggling with the letters in their name (it does happen, even in October), this freebie is a great activity to send home!  It includes the parent letter explaining what to do, a list of activities for them to complete, writing paper, and even an assessment for at school!  Click here to get it!
Parents always ask what they can do at home to help their child with reading.  Give them these bookmarks to help with retelling at home!  Grab them free here!
I think it is important for parents to use the same language at home that we use at school with students.  These Does It Look Right, Does It Sound Right, Does It Make Sense cards are perfect for this!  Get them free here.
You can also include these Tips for Growing Readers to give to parents.  Click here for them!
If you have any parents who still have not signed up on Seesaw (who wouldn't want to sign up and see their child's work?) personally hand the parent this free Welcome to Seesaw letter along with the Seesaw QR code.  Get it here!
Good luck with your conferences!  Hopefully these ideas and activities help make it a success!
Several of the freebies above are available in our Free Resource Library.  Click here to sign up!