Questions, questions, questions!  Aren't our student just full of them all of the time?  I know mine are, but they sometimes need to be taught what kind of questions to ask and to how to ask questions that lead them to the important information.  
This past week, my class got to do a questioning activity to help them hone this skill.  As students walked into class I had this pretty gift bag sitting out for them to see.  Immediately, the questions start flying!
What is that?  Who is that for?  Where did that come from?  As the students were firing questions at me, I started writing down the question words to make an anchor chart.  As we went along, I answered the questions (except for what is it, of course).  The students got better at their questions and we learned to start using the information form our answers to guide our next questions.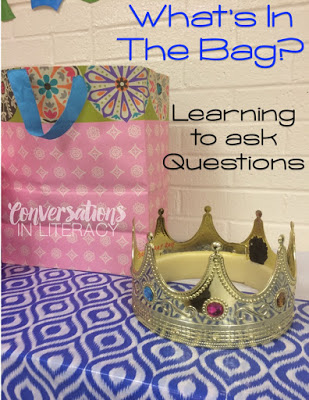 Some of the students even guessed what was in the bag- A Crown from when one of my sons was a homecoming king in high school.  The students were engaged and motivated to be learning- just what I want from all students and just what I really desire from my strugglers!
That quick little engaging activity led into the next one- my read aloud.  Students were given white boards and markers and when they saw the text- SPIDER- they immediately had LOTS of questions.  But they need a bit of scaffolding still at this point to ask questions, not tell me something.  So I required them to write a question word from our anchor chart on their board that they would be using to ask their question.  Without that little piece, we would have gone off the questioning into stories and statements.  Students were given the choice of sketching their question or writing their question.  Then we shared our thoughts.  This one is "where do spiders make their webs". I had several stopping places in my book for the students to sketch or jot down their questions.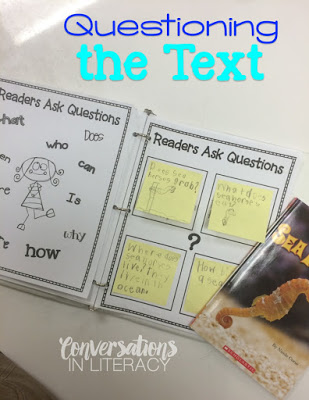 The next day, one of my groups was introduced to the book, Sea Horses.  I couldn't hardly get the materials out to them fast enough because questions were being though of so quickly!  The students had a miniature anchor chart for their Interactive Reader's Notebook to scaffold them on how to begin their questions.  They also received Post It notes on which to write the questions they had about sea horses.  These were placed on our Readers Ask Questions graphic organizer.
By now, my students couldn't wait to dive in to their books!  I just love their enthusiasm for reading!!  
As students were reading, if they found the answer to one of their questions, they could lift the Post It note up and jot the answer to the question right under it.