It is Bright Ideas time again!  I am joining some of my favorite bloggers to bring you some fabulous ideas for your classroom.  You get to go from blog to blog and read some great ideas!
I am sharing with you today some great iPad apps!  No Games!  When I got iPads in my classroom, it was important to me to find some apps that enhance my students' learning, not playing games.  I do let them do that a bit too!  But about 95% of our iPad use is authentic activities that promote their learning time. 
Word Cloud
I know a lot of you are familiar with making word clouds or Wordles.  Now you can on your iPad!  This is a free app from abcya.com.  Easy, easy to use!  Students type in the words and the app creates the word cloud.  Students can choose color schemes, fonts, etc…
Just a few ways that this can be used are character traits at the beginning of a story and then a new word cloud at the end of the story if the character goes through a change.  It could be used for new vocabulary found in informational text, informational text features found in the text, new learning, etc…  Lots of possibilities!  Students can then email the cloud to you.
InstaCollage
Are you on Instagram?  If you are, you may be familiar with InstaCollage.  But you could use InstaCollage for more than just Instagram.  I used this app last year during summer school.  I took pictures of what my students were doing and involved with and then emailed them periodically to the parents. The parents really enjoyed seeing what their children were doing and what they were learning at school.
Another way to use this could be for rewards.  When you catch a child being great you could snap a picture of them holding a special Great Kid Award and share it with InstaCollage to the parent!  What parent wouldn't LOVE getting that picture of their child??  You can jazz the picture up with different frames and stickers too.  
Students could use InstaCollage to create their own collages of pictures taken on field trips, to document science experiments, etc…The collage is saved as a jpg when emailed.
Popplet
So many ways to use Popplet with your students!  It is basically little boxes that you can add to the screen and you can draw or write in them.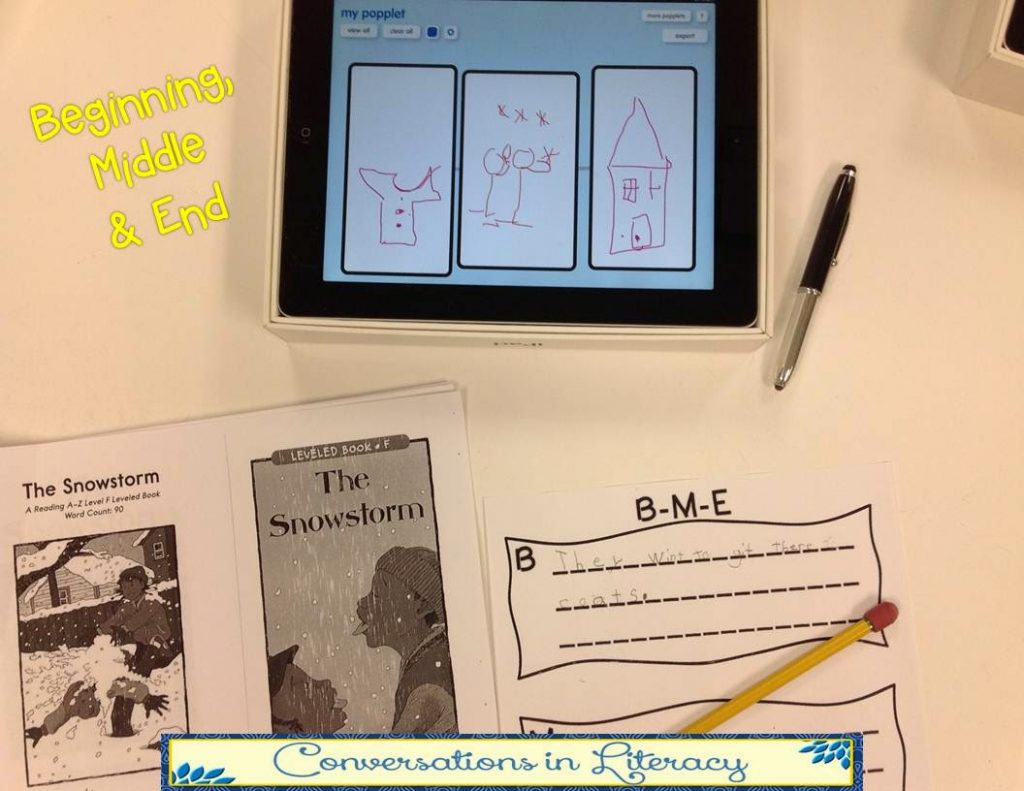 Here we used the Popplets as a quick sketch for Beginning, Middle, and End.  
My second graders used them for dividing words into syllables.  We have been working hard on that skill!  
You could use Popplet for prefixes, root or base words, and endings.  Students could use the boxes for brainstorming before writing or any concept mapping.  
Show Me 
This is an app we use almost every single day!  Show Me is like a wipe off board on the iPad.  When teaching sight words, we write them on Show Me.  If I need my RtI students to use a new word in a sentence, they go to Show Me app.  Writing beginning sounds heard in a word (or middle or ending sounds) works really well for the younger students.  Another feature of Show Me is the recording feature.  Students can record themselves reading a passage for the first time and then again after practicing the passage.  They can then listen to the difference.  Or you can keep the recordings over time so you can hear the progression in their fluency skills.
I sure hope you enjoyed these iPad ideas!  I know I loved finding great apps to use in my classroom.  Hopefully you are already following my blog.  Please do follow me if you aren't!  
If you enjoyed this bright idea, please consider joining me on Facebook, Instagram, and TpT for more great ideas!
For more bright ideas from my bloggy friends, please look through the link-up below.  You will find some terrific ideas!