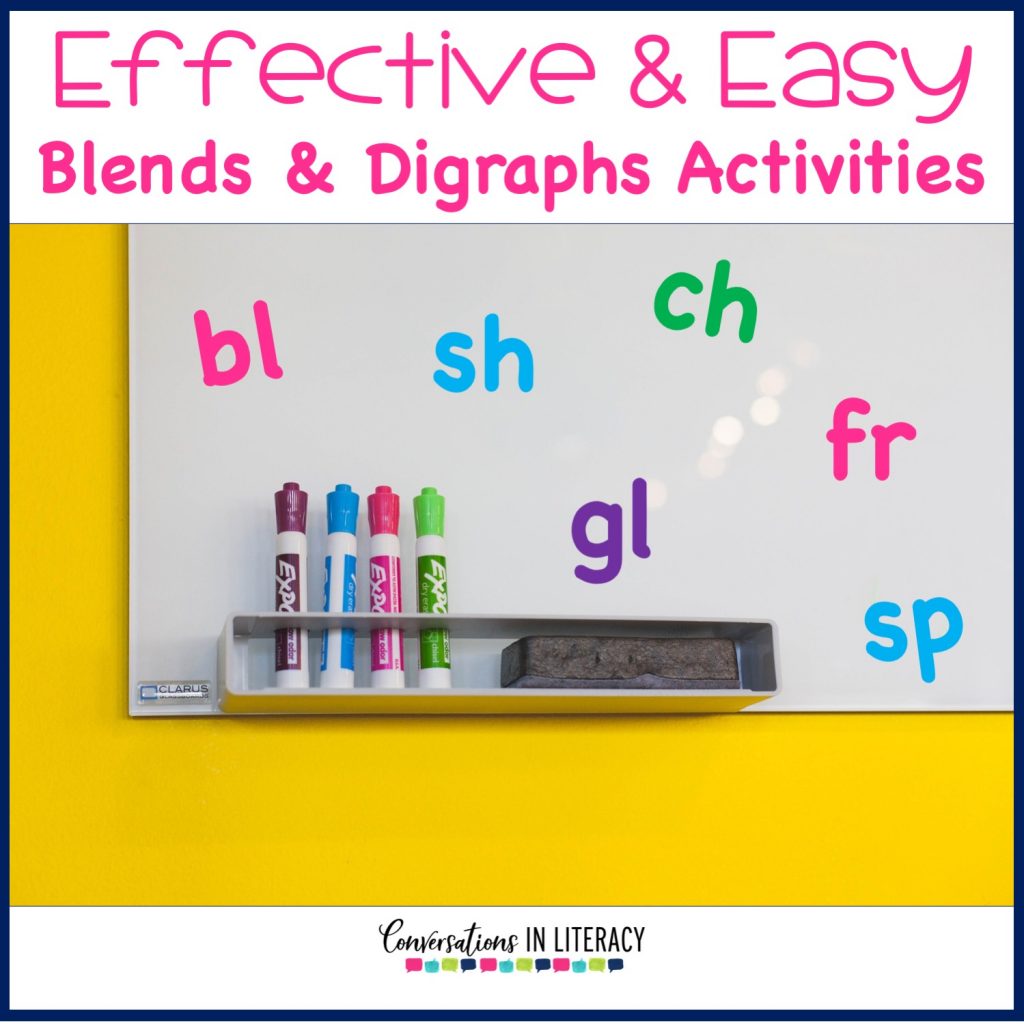 Blends and digraphs are a crucial step forward for young readers. It requires them to put two or more letters together and make a new sound or to smoothly blend the sounds together. We need easy, but yet effective activities to scaffold readers in this skill.
One of the first ways to begin is to help students hear the sounds. Then to begin associating these sounds with the letters that make them. I love using picture sorting cards for all kinds of word work and they work wonderfully for blends and digraphs.
Have you ever used an ABC chart with your students? You know where you say the letters and picture cue that goes with it- A a apple, B b bear? It is a highly effective way for students to associate letters with pictures and with sounds. I use this same model with other letter patterns.
There are so many ways to use a chart like this:
forwards, backwards, every other one
call out a word and students place a marker on the picture that begins like your word
student calls out the sound and other students mark the box for the letters
call out the picture cue and students write the letters in the box (have the chart in a plastic sleeve
It is also highly effective to use these blends and digraphs or any patterns you are teaching within connected text. There are so many lessons you can do from Morning Messages. But one of them is definitely blends and digraphs. Here you can see that students are finding most of the blends and digraphs, but a few are missed. When you feel students ready, point out and teach those too! Students can mark them with markers, Wiki Stix, or Highlighter Tape – which I LOVE! Here is a tip with the Highlighter Tape– peel it back off and stick the edges of the pieces on to your white board or easel and reuse them. Makes that stuff last longer!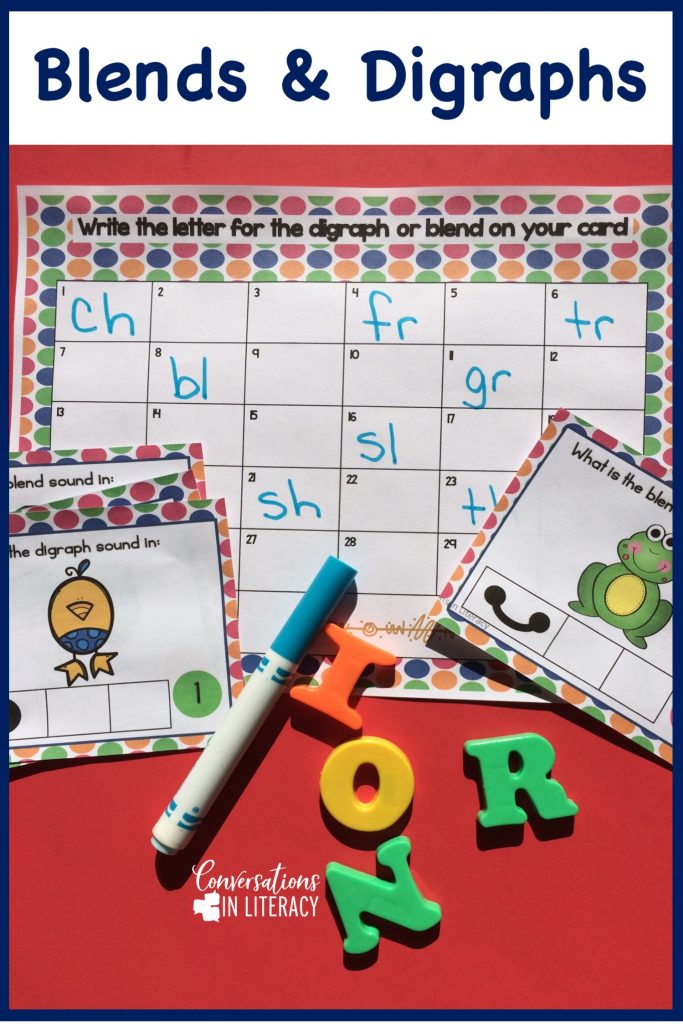 As you can tell, we are doing lots of progressive scaffolding with our activities. Task cards are great for focusing in on hearing these blends and digraphs and the position they occur in the words. Instead of using two boxes, I like to use one bigger box for students to BLEND the sounds together rather than say each sound individually. My struggling readers have trouble getting past the individual sounds unless I specifically teach them that it is two sounds that we chunk together. This seems to help them when reading to quickly say the word.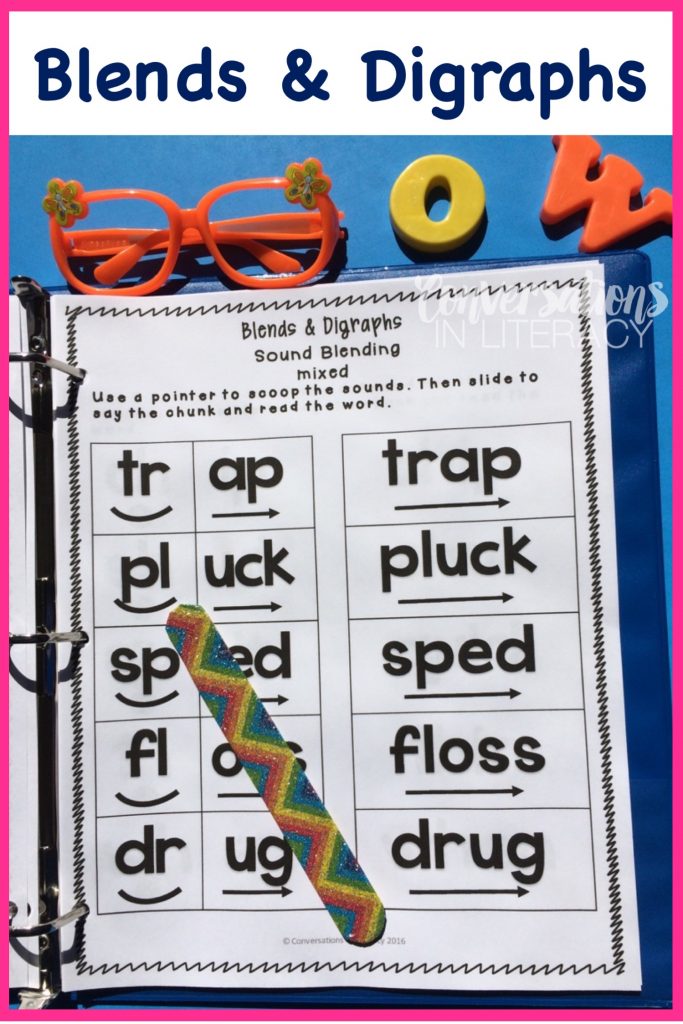 Using a Blends and Digraphs binder is super helpful! You can pull out the binder and differentiate for each group where they need to be practicing.
You want them to move from individual sounds to blending onset and rimes and then reading whole words. And again, you want students to also use these skills within connected text- which is also included in the binders.
If you want to give it a try with the binder system ( a no prep- just print and go binder), you can find these Blends and Digraphs activities from our Word Work Binder system for FREE! You will find a page from each scaffolded section included in the binder to show you how it works. You can find it here.