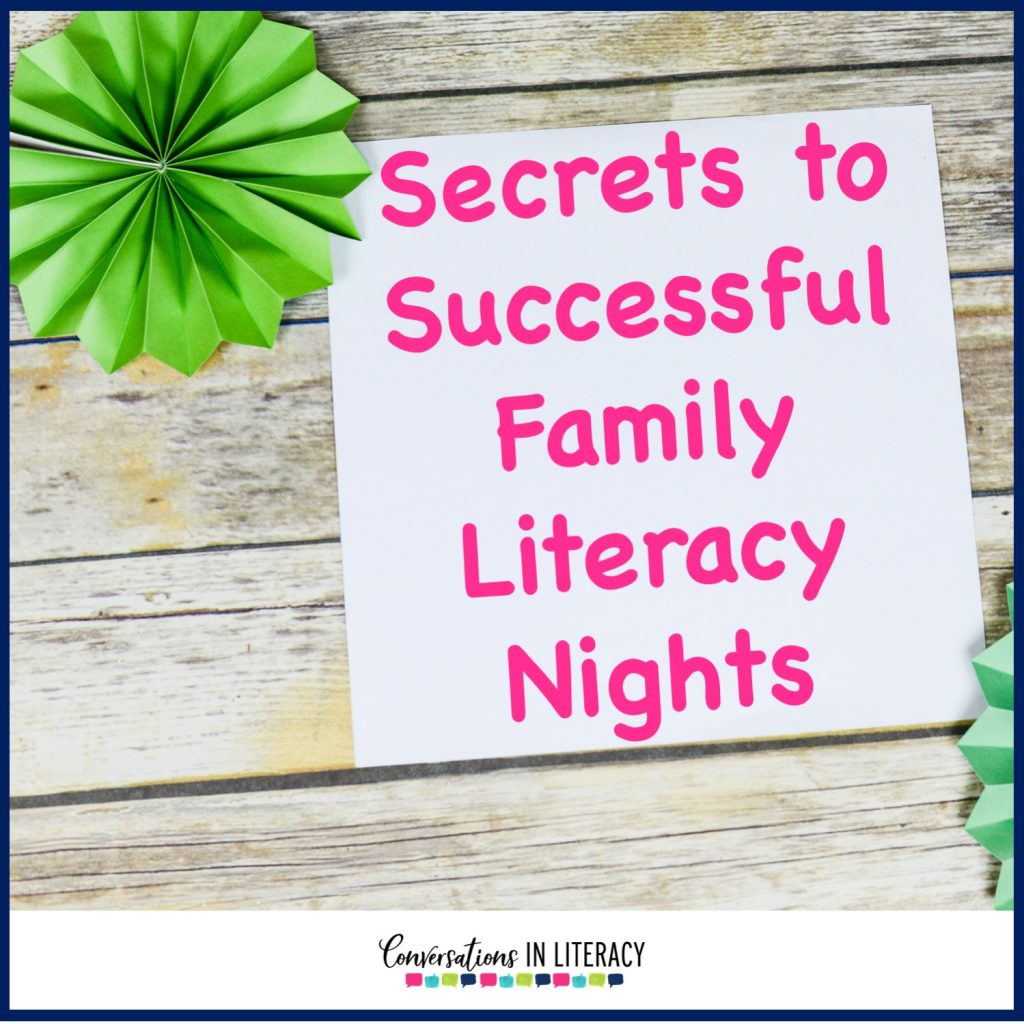 Family Literacy Night can be a fun and successful event at your school! It takes some preplanning and some work, but it is worth it for your students and families. We've got some secrets for you to help you make it successful!
FOOD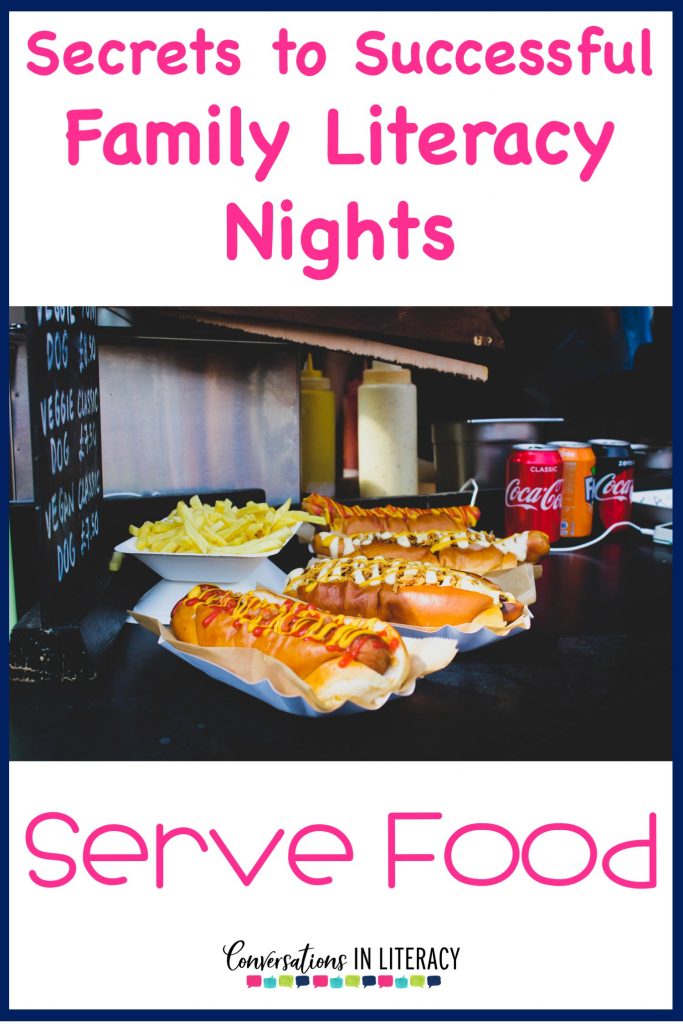 The number one thing that helps make the night successful and draws in the biggest crowd is FOOD! Serve food and give it to families for free or very cheap. Busy families truly appreciate this and food brings people together in a festive atmosphere.
We have served a variety of foods: pizza, spaghetti dinners, pasta meals, and even baked potato bars. If you don't have the funds for a full meal, serve snacks. Cupcakes and cartons of milk, popcorn bar, cookies and hot chocolate. Use local vendors when possible and you may receive a discount. When we serve a full meal, we serve something appealing to adults and then another item that also appeals to the younger crowd.
FUN and THEMES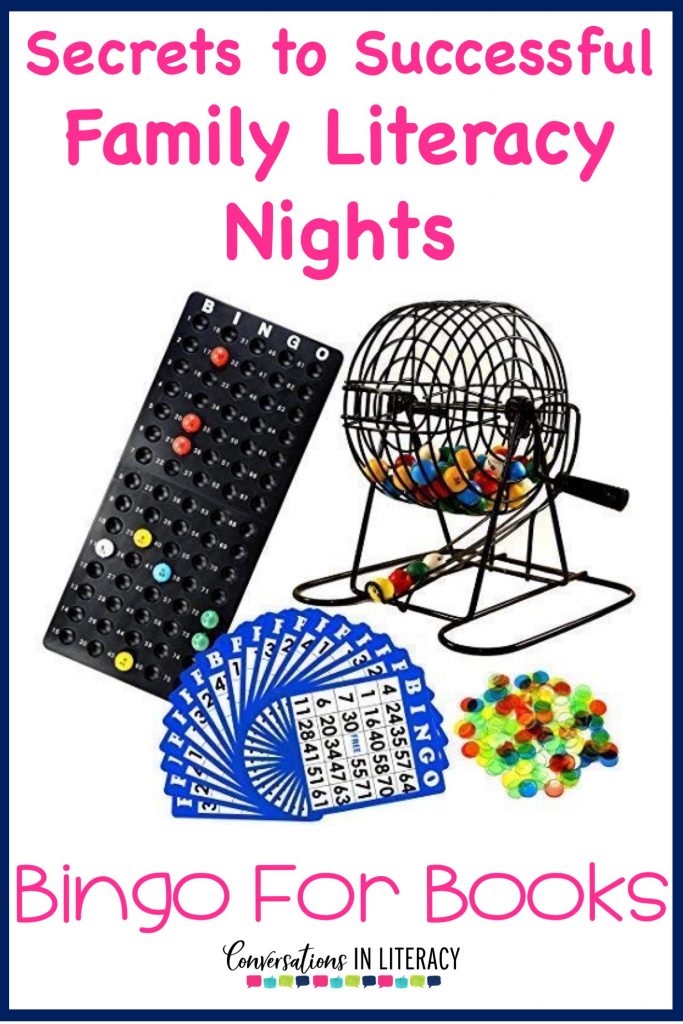 Plan fun activities and decorations for the families around a theme. Some fun theme examples:
Pirate
Camping
Stem
Family Games
Dinosaurs
After choosing your theme, plan the activities and have each activity in its own space. Stem Night and Family Game night are super popular! Whenever we include Bingo For Books that area is the most active and popular. We have a Bingo game set up on long tables so people can just drop in on the game and leave whenever they choose. If they win, they go to another table and choose a free book to take home! Hit up Scholastic during their $1 Book Sales and order at that time to save you lots of money. Be sure to include a Photo Booth area- this is a family favorite!
Another fun and easy activity for Family Nights is a Scavenger Hunt! Hide letters around your school, write clues so families can find them and they use the letters to complete the Scavenger Hunt. You can see these here.
Piggyback on other Activities
A great way to draw in a larger crowd is to schedule your Family Night at the same time other events are happening in your school. It will help you out and also helps out the other activity. We always schedule our night at the same time our book fair stays open late. In the fall, not only is Family Literacy Night and Book Fair happening, so is parent/teacher conferences. Families appreciate getting to do all the things in one evening and each activity then draws in a larger crowd by working together. You could hold your Family Literacy Night at the same time the music concert is happening or the school art show. Get together with the teachers having their events and plan together!
Giveaways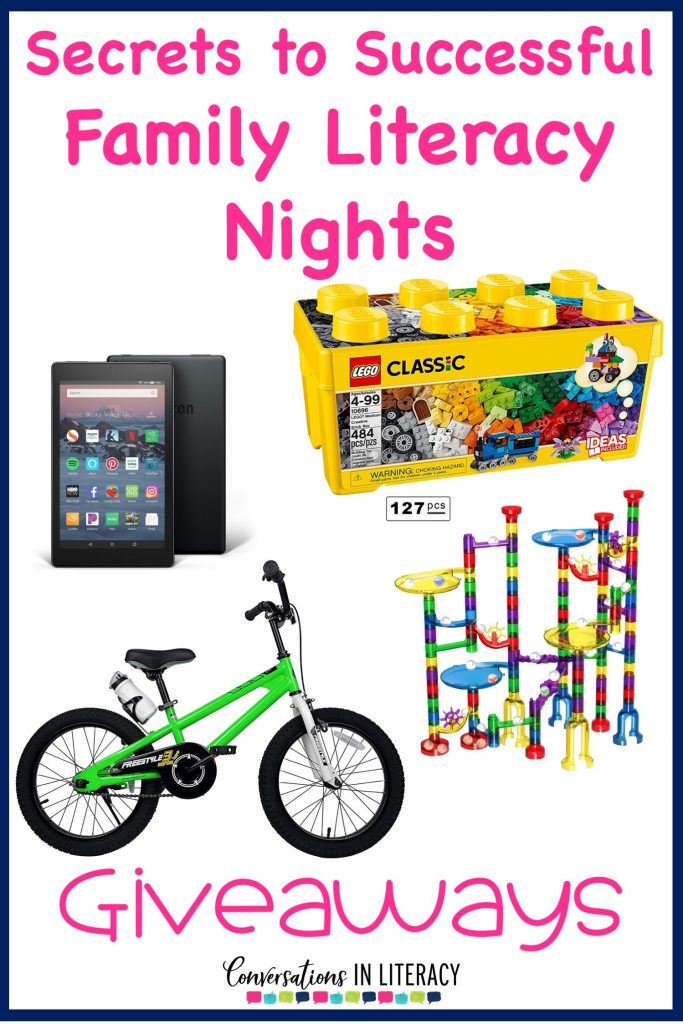 Families LOVE giveaways! We sometimes try to find items to go with our theme, but a lot of times we also choose things that we know kids will just love. We set up a table with the giveaways set up on it as a display for students and parents to stop by and sign up. Some of our most popular items to giveaway in our drawings have been:
We also have prizes just for the adults like gas cards, gift cards to Starbucks, bundles of books. Families sign up and then we do the drawing sometime later so no need for families to have to stay the entire night to see if they won or not.
Welcome Bags
We like to give out Welcome Bags to each student who attends the Family Literacy Night. Our committee tries to keep these type of goodie bags on hand as they do not cost much and make great little bags for the students to carry around that night. You can fill the bags will all sorts of items as an extra little treat to welcome the families with as soon as they come in the door. Coupons to local businesses, fun pencils, bookmarks, erasers, a piece of candy or gum, a small toy, etc… are examples of what you can place inside. It doesn't need to be a lot or to cost a lot. Kids get excited about it! Then as they collect their free book and complete activities that night, those things can also be added into their bag.
PASSPORTS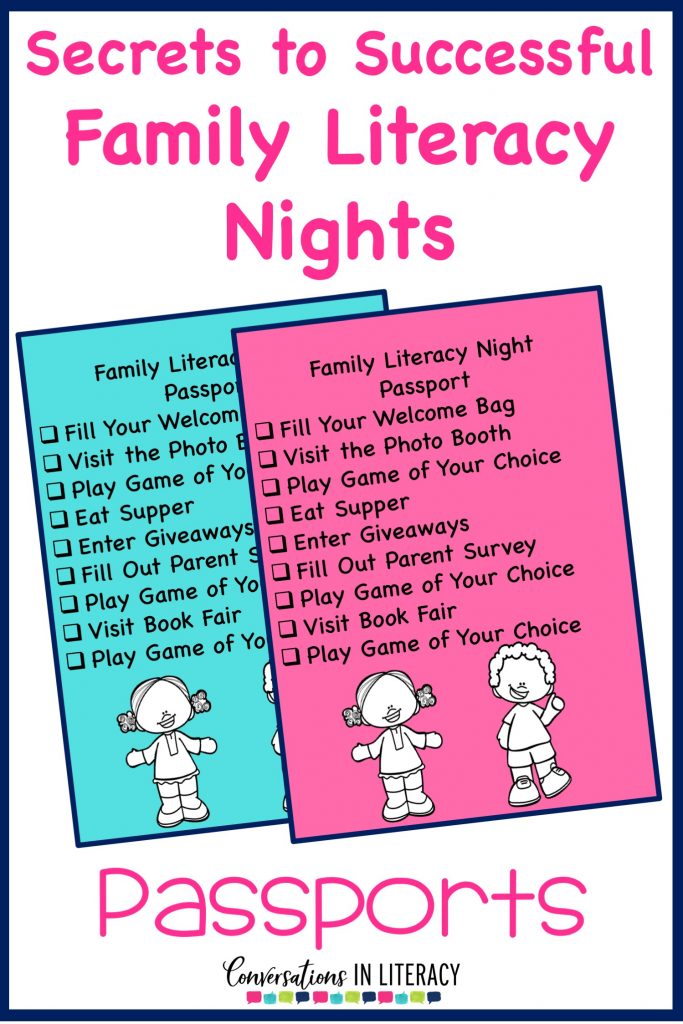 Passports are just little cards you can prepare ahead of your Family Literacy Night listing the activities you would like them to complete during the evening. It helps prevent families from standing around not knowing what to do. The passport is a checklist to guide families through the activities and can be done in any order. Hand these out as families walk in and the fun begins!
Scavenger Hunts are a really fun Family Night activity! Hide letters around the school from a quote. Families read your clues, find the letters and plug them in to finish the quote. After completing the quote, they bring it back to receive a book or some other prize! This is great as the hunt can be come and go. Families do not all have to be there to begin at the same time.
You can find our Literacy Scavenger Hunt here or our pirate themed Literacy Scavenger Hunt here!
If you would like to see specific Family Literacy Nights, find these ideas here.