Sorting multisyllabic words activities
Improving fluency is something we are always looking to do.  I have the students do a number of activities with connected text to achieve this.  But most of the time, students need some background skills to really get the fluency going.  Learning to chunk and break words is a big piece of what students need to be able to do to read with more fluency.
For my students, word study with multisyllabic words is something they need a lot of extra practice in doing.  They sometimes get hung up on wanting to "stretch it out" or "sound it out" for every word they have difficulty with reading.  I explicitly teach my students that stretching out a word works for those cvc words and other short words, but I don't want them using that strategy for longer words or words that don't follow the rules.  
To build fluency, students need to be efficient at solving unknown words.  And be able to do it fast.  Chunky Monkey is a great way to do this!  Students need to figure out how to chunk words:  on-set & rime, root word and endings, multisyllabic words, etc…
So as soon as my little readers are ready, I like them to learn to problem solve in chunks rather than sound by sound.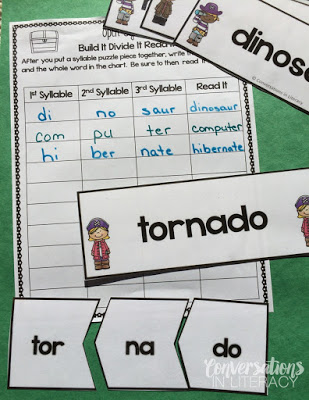 Here is where several of my groups are now.  Putting into practice what they learned at the lower levels now when reading longer, multisyllabic words.  We practice word sorting, like in the first picture at the top of the page.  They need to be able to tell what kind of word it is and practice breaking it.  These are open syllable word puzzles for practicing.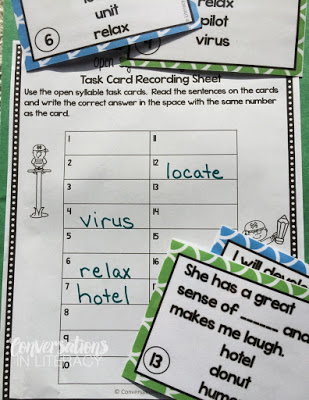 But I don't want students only practicing breaking words in isolation.  They need/have to be able to do it in connected text.  Short task cards help them get in some quick practice doing that.  With all that practice the students can apply Chunky Monkey to longer pieces of text and practice doing it quickly so their fluency improves.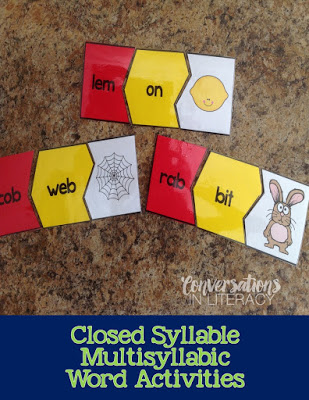 My younger groups practice with closed syllables.  If they need a bit of guidance with the syllables, coding them by copying on different colored paper is a good scaffold.
As they get better at this, the colored paper isn't needed as much.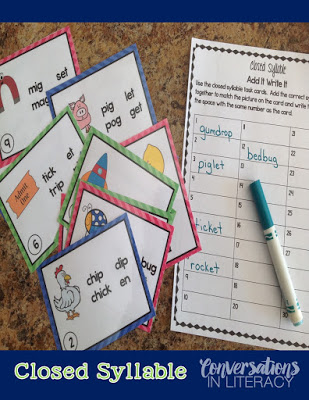 Sorting words in pocket charts, practicing where to divide or chunk words, working with word puzzles, etc…all these activities give students the practice they need to become more efficient at seeing and reading the chunks in words in text.  Being able to break and read longer words will help your readers to be more fluent as they read, which leaves more brain power for comprehension.