Just like most students, my students love a great read aloud. And I love reading great books to them. I also feel the pull of packing in all that I can into every moment I have with them. I use my read aloud to foster a love a reading with my students and to introduce comprehension strategies to them at the same time. I also want them to be interactive- I want the students to be the ones doing and practicing the thinking- not me just modeling it for them.
One tips is to to tab the spots in the book where I want students to interact with the story or with each other. This makes my time more purposeful and ensures I don't forget what I had planned. I also see several grade levels, so I code my notes according to what I want each grade to be doing.
There are a lot of things you can have students do during a read aloud to make it interactive and purposeful. One that I really like to use is wipe off boards. The students can each have one right on the floor with their marker and eraser. When I come to a stopping point, students do a quick sketch right then of their thinking. Quick sketches work well with my students. They don't have to worry about writing and spelling in sentences and it is much faster. I use a timer to be sure it doesn't go over. When timer goes off, marker lids go on even if you didn't finish. Then we do a quick share of our visual thinking.
Last week, I read Snowmen at Night and students interacted at different stopping points on their marker boards. One stopping point was for the students to infer why the snowmen mothers gave the snowmen ice cold cocoa instead of hot cocoa. They would melt of course!
There are a lot of ways to make your read aloud interactive. Here are a few more:
Turn & Talk
Add music to fit the theme of the book
Stop & Jot
Chime In or Share the Reading (students read repetitive parts with you)
Predict
Infer
I love how interactive read alouds help develop my students' oral language too. This is an important skill some of them still need to improve.
We will be using this page for our inferencing this week along with our read aloud, The Snowy Day. There are 3 different scaffoldings. If you can use it, click here or on the picture above to download it.
Last week to go along with our winter and snowman theme, we did a read and write the room activity. Some of my groups are working hard on being able to read and spell multisyllabic words. The above picture is from my new It's Snow Fun unit. You can use the vocabulary words to do a read and write the room activity!
There is a snowman craft and vocabulary and syllable sorting activities.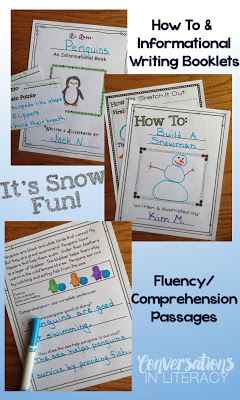 I also included fluency activities that focus on improving comprehension and 2 writing booklets: How To and an Informational writing. Just click the pictures or click here to see it.