Oh my…I am starting to feel the nervousness panic excitement about getting into my classroom! We cannot get into our classrooms until August 1. It is this way every year. Our rooms must be completed by August 12 for orientation night. And we have all day meetings on the 12th. So just a bit of pressure to at least have my ideas planned out so I can get it done once I get in my room. Does anyone else just stand there and look at their room in a daze, not knowing where to even start?? I do this every. single. year.
Here are some ideas I have collected from that great magical place called Pinterest!
To see the blog posts that these pictures originated from just click the picture!
Chair: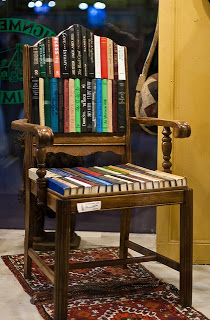 Is this book chair not the coolest chair ever?! I would LOVE to have that! Probably isn't too comfortable to sit on books, but looks so cool.
Doors:
I really like this door! It is clean and not overly cluttered with decorations. Simple and Sweet!
Source was listed as suspicious or spam.
Little birds and Twitter are very popular right now. Cute, cute, cute!
No source listed.
Another popular theme is camping. These are just fun! And students LOVE to see pictures of themselves and their friends.
Floors:
No original link.
I like this idea for a couple of reasons. One: gives the students their own defined space- both for themselves and for their materials. Two: When the baskets are not in use, they can be stacked to take up less space. I think the kids would really like this, especially the younger ones. Second grade and up might have too long of legs!
I used to do this: welcome mat by my door. I just felt like it added a homey touch to my room as students entered through my door. If you do this, be sure to get a mat with dark colors or it will just look dirty quickly from all those little shoes going across it.
Walls:
This would make a great wall display for the fall parent/teacher conference time. It would give parents something fun to do and talk about in the hall while they wait for their turn to have their conference. I am LOVING this!
Are these owls not just the cutest? I like that this display is 3D. It would definitely be an eye catcher for the beginning of school!
I am linking up with First Grade Parade again this week for her Favorite Pins Friday. Hop through each link to take a peek at what everyone is pinning.