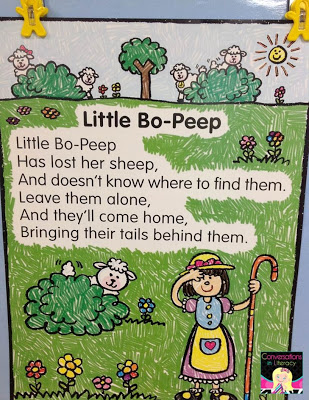 Do you use nursery rhymes for reading? I bet a lot of you do. There are sooo many ways to use them and so many things you can do with nursery rhymes.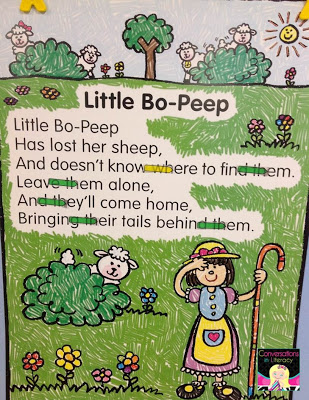 I like to use the full size charts with my small groups. We use this for shared reading and then to do some work. Here we have highlighted some blends (wh & th) with Post It note flags.
On this chart the student found sight words that he was working on or reviewing. We used a different color for each set of sight words. We talk about how the word is still the same word whether it begins with a capital (The) or with a lower case letter (the).
Post It flags and highlighter tape can get expensive. I reuse mine. After using them on my charts, I pull them off and stick them to the top of my easel to use again. With seeing different reading groups all day long, I would go through a lot of flags and tape if I didn't do this!
These are just a few of the tools you could use with the nursery rhyme charts. The flags and tape are wonderful!! I also like to use a variety of different pointers. I use them to point to words to show one to one matching of words, print concepts of moving across the page left to right, and return sweep. Then of course when students get to come up to read, they want to use a pointer too!
I included marker boards and dry erase markers because after we talk about the skill, I want the students to practice that. So if we are finding sight words they write the sight word or if we are finding individual letters, they write those. I am blessed to have marker tables for my groups so we just write on the table!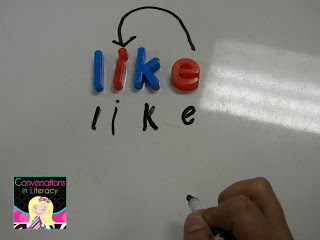 You can also take the nursery rhyme, type it up smaller and have them glue it in their reading journal. The students can then do the same skill that you practiced on the the big chart on their own charts.
This is just a small sample of ideas you can teach using nursery rhymes. Of course, as soon as I type it, I thought of more! Like rebuilding the poem in a pocket chart! We LOVE to do that!
How are you using nursery rhymes? I would love to hear about it!
These activities can be found at my TpT store to help you build phonemic awareness with your students. They include assessments too! These are just two of them, there are more if you look around. 🙂