You've almost made it to the end of quite the school year! That in itself is an accomplishment to make it through one of the most difficult school years ever. With all the changes over the past year, I am sure our classrooms need a bit more organization and care before we leave and we have 5 great tips to help you get things organized at the end of this year with the beginning of the next year in mind!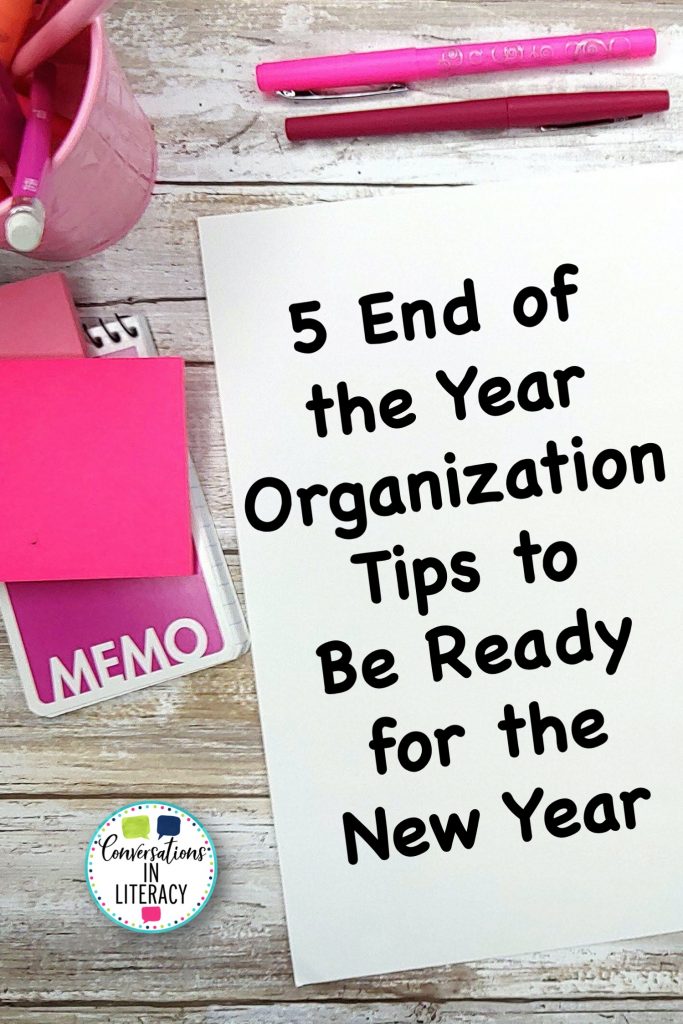 If we just spend a bit of time at the end of the year, our beginning can go so much more smoothly. I get it. It can be hard to even think about next year when we are ready for a break. But trust me. You will be so glad you did the organizing and prepping when you come back. And several of these tips your students can help you with!
1. Organize Your Files
At the end of a year, my filing cabinet needs some attention. Or rather, all the papers I have just stacked on a table need to be filed back where they belong! Don't skip this. You won't be able to find your papers if you don't get them back into the proper place.
This is also a great time to to organize your digital files! Delete items that you are sure you no longer need. Organize items into folders. Get rid of the clutter! And clean out your emails too. A clean email box is a great thing!
2. Sort The Classroom Library
Here is a great job for students to help you out! My classroom library always needs to be resorted as books mysteriously get placed back into the wrong bins! No one seems to know how this happens. Task your students to finding the correct places before having to store them all. This is a big job that you will be thankful is complete at the beginning of the year!
3. Prep Back to School Night Packets
Time is short at the end of the year, but the beginning of the school year seems even shorter. And crazier with all the decorating, labeling, printing, etc… that must be done. Plus, the copy machine lines are always long! If you know at least some of the items you will be sending him for Back to School Night, get them printed and ready. Stack them neatly on a shelf or file them in your cabinet and you have one less thing to worry about after the summer.
4. Box & Label for Missing Pieces of Literacy Centers
This is another great task for students to help with and they love to help us! As they box up literacy centers, have students go through the pieces to be sure everything is there. Somehow our centers by the end of the year have missing parts. Students can write on a sticky note what is missing and stick that on the box or manilla envelope so you know what needs to be added back next year when you get ready to pull that center out again to use. Win win!
5. Print and Prep Reading Intervention Materials
Prepping intervention materials was a big time saver for me! Printing out student data forms and graphs ahead of time, helped me to be prepared once RTI cycles started up in the fall.
It is also helpful to have word lists, parent letters, and anything I normally use each year printed and filed ready to go. We start our RTI groups after school has started which means there isn't a lot of prep time. It makes it a less stressful start if I am ready to go!
Hope these tips help you to end your school year organized and ready to begin a new year this fall!