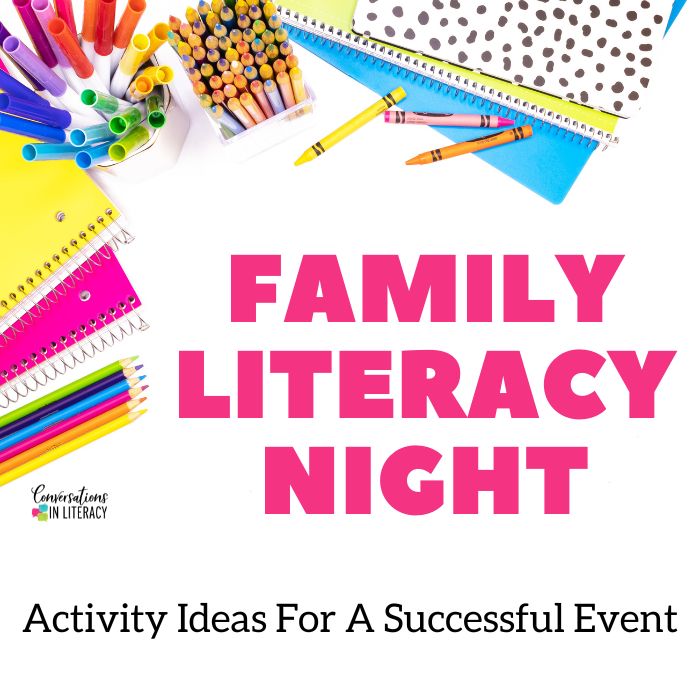 A school sponsored Family Literacy Night can be a whole lot of fun and a great way to build a strong community between school, home, and your town! But we also know they can take a lot of planning and coordinating too.
We have some great ideas for you to help make your next Family Literacy Night a successful event that students and families will remember! You can find more ideas about Family Nights here too!
Family Literacy Night Tip # 1: Partner With Other Groups
If your Family Literacy Night is a stand alone event, you may experience lower attendance. It always makes sense to have several group activities all in one night. It makes it easier on families too when they only have to come up to school on one evening instead of many different evenings.
Ideas For Coordinating WIth Other Groups:
Title 1 Night
Book Fair- this is a really good one to partner with
Preschool Night
Parent/Teacher Conferences
Family Literacy Night Tip # 2: Make It A Grandparents' Night
Grandparents LOVE to be included in any activity with their grandchildren!! We have had Grandparent's Night with Family Literacy Night and it is always a big hit. Students enjoy showing the grandparents around their school and grandparents absolutely thrive on being included!
Family Literacy Night Tip # 3: Serve Food
Any time you serve free food, people WILL come! On some of our Title 1 Family Nights, we have served full meals. Sometimes we serve snacks. Either way, food has a way of making an event more special and welcoming! If your budget doesn't allow for a full meal, have cupcakes or cookies along with lemonade and coffee. You can have a popcorn bar using your school's popcorn machine (be sure to pop some popcorn an hour or two before the event begins so you don't have everyone waiting). Set up a table with different toppings to go with it. Use plastic tablecloths to dress it up a bit and to make the area feel special.
Family Literacy Night Tip # 4: Set Up A Photo Booth
Students and families love photo booths! Collect a few props, hang a backdrop on the wall and this area will be a popular place to be. We like to set up a wireless printer ahead of time. Families can take pictures with their own phones or you can have a volunteer take pictures with an iPad. The volunteer can then send the picture right after it is taken to the wireless printer and print it right then. This removes the task of later having to try to match up photos to the correct families or having to mail photos out later. EASY FUN!
Family Literacy Night Tip # 5: Drawings
At our literacy nights, we like to include drawings for prizes. Local businesses sometimes donate items or people from the community donate money to purchase prizes. We have given away a lot of bicycles, Lego toys, drones for kids, board games, etc… We have families fill out a small paper or ticket to put in the drawing. We also don't require our families to be present at the time of the drawing. Our events are come and go so we contact them later if their name was chosen.
Family Literacy Night Tip # 6: Use Volunteers
Make it easier on yourself or your literacy night committee by pulling in volunteers! It can be so much work if you have a small committee and try to do it all yourselves.
Ideas For Volunteers:
PTO Volunteers- these people seem almost magical! Lol! The PTO people can help with set up, food donations, clean up, parking lot help, etc…
High School Clubs- Some clubs have requirements of community hours to meet and helping with your night is a great way to help them and you! We have used Beta Club students for years. Besides Beta Club, you could maybe use student athletes, FFA members or any other group willing to come in and help out!
Family Literacy Night Tip # 7: Make Your Night Themed
There is just something about having your event around a theme. It gets kids excited and they can't wait to see what it is all about. We have used a lot of themes over the years. Here are a few of the most popular ones:
I hope these ideas help you to make your next Family Literacy Night successful and fun! Share an idea you have in the comment section below!
If you haven't joined our community yet so you can receive our newsletter be sure to sign up today! Lots of perks to being a member of our literacy community – click here to sign up now!