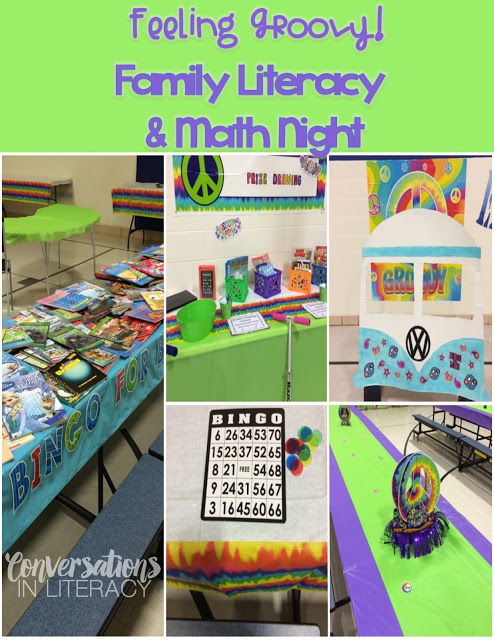 We were Feeling Groovy for our Family Literacy and Math Night! Our Family Night is the same night as Scholastic book fair so we used the same theme they were using for our school literacy night- Feeling Groovy!
One of the really great things about our Family Night is our prize drawing table. We had scooters, Kindles, a Chromebook, 2 drones, gas gift cards and of course books to give away!
We set the scooters up ahead of time so the students could see them and get excited about coming that night to enter the drawing.
We had a drawing bucket set up for the student drawings and one set up for the parents. There was a lot of buzz around this table!
I did the Bingo For Books for my activity again this year. This is a student and parent favorite!
I like to have all the cards and Bingo chips already out at the tables so families and just sit down and start playing, even in the middle of an existing game. If they had to wait for cards and chips they might not be as eager to just jump right in. Families come and go from this table all night.
We didn't clear our cards between Bingos. I let them just keep playing. This night was all about getting books in to families hands to take home.
There was a groovy van for our photo booth and groovy table decorations too!
We also had math games and activities going this night too. It is so much fun to see our families come out for this night. They get a free meal for the whole family, get to play Bingo where everyone can win a book to take home, play math games and visit the book fair!
Back in the classroom, students are working had on those sounds and being able to link them to the correct letter. Sounds Task Cards really come in handy for RTI, literacy centers, small group times, etc… I use sound boxes for scaffolding all the time with my students and these are on the cards too. You can use beginning sound task cards.