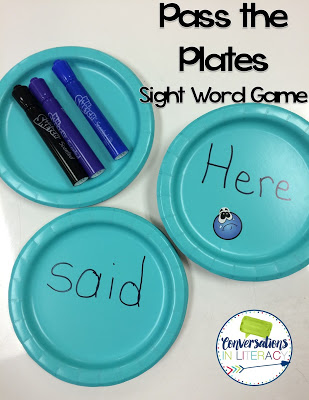 My sight word activities this year have included a lot more movement for my active learners.   Learning our sight words has been a bit more of a challenge for some of my kindergartners.  A few are struggling to learn and keep those sight words learned.  This group is also a very active and mobile bunch so I have switched things up to accommodate their learning style.  They are loving it!
One of their favorite sight word games to play and that they ask for is Pass the Plates.  I write the sight words they are working to learn onto paper plates.  The newest word or the word they are struggling with the most to learn gets a sticker.    The students stand in a circle with the plates face down, one plate per student (or you can do less if you like).  Play some music or set a timer for a few seconds.  The students pass the plates in a circle.  When the timer goes off, they turn over their plate and read their word.  The child that has the plate with the sticker is out.  Continue playing until you have one winner, taking out plates as you lose students.  You can have several small circles going at once if desired.  The kids really do like this game and they get to read their words over and over.
My friend, Tammy at Forever in First, gave me this idea of sight words on labels.  You can stick them on the students heads or backs so they can't see their word. 
They have a list of their friends' names.  Then they walk around reading and writing the sight words from their friends beside the correct name.  I have everyone read their list so they can figure out which word is on their own back or head.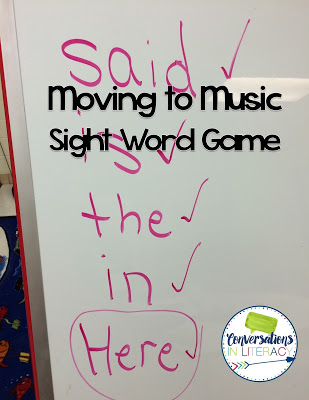 This idea came from another bloggy friend, Barb at Grade ONEderful.  I write sight words on the board.  The kids walk or dance around to the music.  When I stop the music, I call out a sight word from the board.  They write it on their clipboards and then it all starts up again.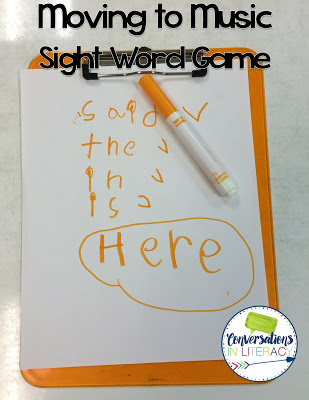 After we have all the words called out, I call out the words and the students check them off of their clipboard list.  I'm sure you know just getting to use clipboards raises the engagement level right there!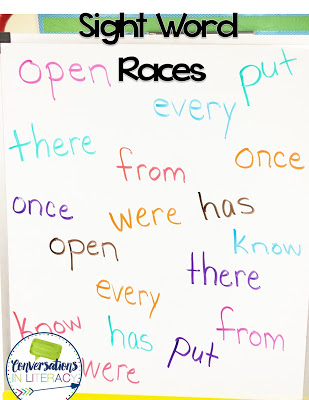 Another fun one is Sight Word Races.  Two students stand with their backs to the easel where I have written sight words.  I call out a word and the students turn to see who can find the word  and get it erased first.   You can have a student call out words so more students are involved at a time.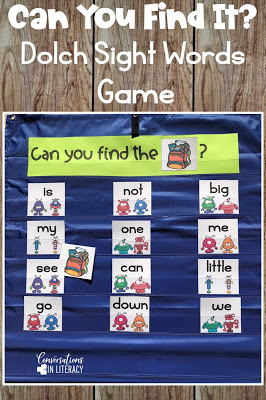 A student  favorite is Can You Find the ____?  I hide a picture card behind sight words cards.  Students read a card and pull it up to see if the hidden picture card is behind their sight word card.  They love the anticipation of seeing if the card is hiding behind their card!  Find this fun game here!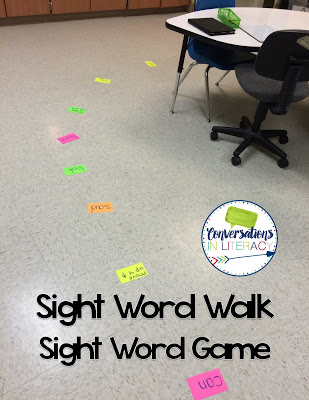 One last active sight word game is our Sight Word Walk.  All I did was write the sight words on bright index cards and scatter them around the room in a circle.  I added fun cards like move ahead two, switch with a friend, go back one, etc…  
I rolled big dice and everyone moved that many cards forward and read the word they landed on for that number.  Roll again, count and move forward and read again.  
These sight word games have all been a lot of fun and get the students up, moving and learning!
You may also want to check out these RTI intervention binders below by clicking on the picture: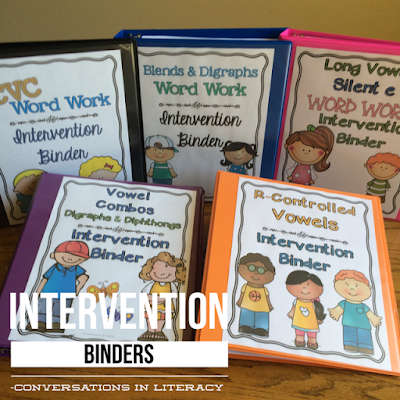 Fluency Intervention Binders- build fluency to improve comprehension!  
FREE Resource: